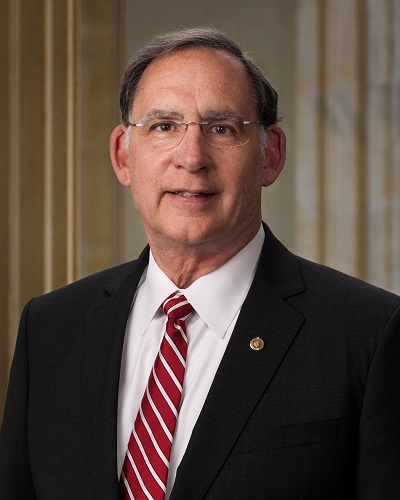 5:00 p.m. – 6:00 p.m. ET
Join STS surgeon leaders and the STS-PAC Board of Advisors on Thursday, May 20, for the second event in the STS-PAC Speaker Series.  
US Senator John Boozman, OD (R-AR)—an optometrist who cofounded a clinic that has become a major provider of eye care to Northwest Arkansas—will talk about his work on health care policy and advocacy. He also will answer questions from STS members and be presented with the Society's Legislator of the Year Award.
Sen. Boozman will be honored for helping cardiothoracic surgeons and their patients by championing efforts that halted Medicare reimbursement cuts, provided emergency COVID assistance, added Medicare-supported residency positions, and confronted the youth e-cigarette epidemic. 
Moderator:
Alan M. Speir, MD
Chair, Council on Health Policy and Relationships 
Member, STS-PAC Board of Advisors
Check
If you'd like to contribute by personal check, please make it payable to "STS-PAC" 
and mail to:
     STS Washington Office
     20 F Street NW, Suite 310C
     Washington, DC 20001-6702 


For more information about STS-PAC, or if you have any questions about your contribution, please contact the STS Government Relations staff at advocacy@sts.org or 202-787-1230.
---
*Disclaimer:
Contributions to STS-PAC are voluntary and not tax deductible for federal income tax purposes. You have the right to decline to contribute without any reprisal against your STS membership. Your contribution must be made using a credit card, check or money order, and must be drawn on a personal account to be used to support federal candidates. You must be a US citizen or lawfully admitted permanent US resident to contribute. Federal law requires us to use our best efforts to collect and report the name, mailing address, occupation and name of employer of each individual whose contributions exceed $200 in a calendar year. Federal law prohibits STS and STS-PAC from soliciting contributions from persons outside STS's restricted class. STS's restricted class includes individuals who are dues paying members or non-dues paying members with voting rights, and who are US citizens or lawfully admitted permanent US residents.