Campaign Blasts Impending Medicare Cuts
The Surgical Care Coalition, of which STS is a member, has launched a multifaceted campaign designed to make lawmakers and the public aware of the value of surgeons and how planned Medicare cuts will hurt patients. These cuts, scheduled to take effect on January 1, would mean reimbursement reductions of 7%-8% for cardiothoracic surgery. Recently, many STS members participated in a surgical specialty survey about the impact that these cuts would have on top of an already-stressed system due to the COVID crisis. The new Coalition website offers some of the survey results, a payment cut fact sheet, and other information.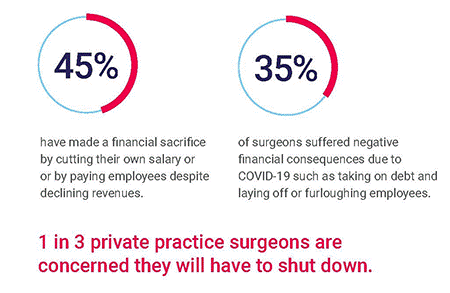 ​
---
Congressional Leaders Urged to Waive Budget Neutrality
The impending Medicare cuts relate to changes in office and outpatient evaluation and management codes adopted by the Centers for Medicare & Medicaid Services. Congress could prevent these Medicare payment reductions by waiving a requirement for budget neutrality. In order to amplify the need for this wavier, the Society has participated in numerous efforts to educate Congressional leaders about the connection between these cuts and access to care for Medicare patients. Most recently, STS was among 53 organizations that sent a letter to House and Senate leaders. The Society also has called upon its members to contact their Congressional representatives by using the prepared materials available in the STS Legislative Action Center.
---
STS Urges Liability Protection for Practitioners
The Society has joined the American Medical Association and other groups in supporting bipartisan legislation that would protect doctors and nurses on the front lines of the COVID-19 pandemic from frivolous litigation. The Coronavirus Provider Protection Act would protect health care workers from lawsuits related to deferred care, rationed care, or care outside a practitioner's normal scope of work when that care was provided in good faith. The bill has been referred to the House Judiciary Committee.
---
Society Pushes for Access to Medicare Claims Data in Cures 2.0
As lawmakers work to revamp the 21st Century Cures Act of 2016, which modernized the nation's medical research system, STS is urging Rep. Diana DeGette (D-CO) and Rep. Fred Upton (R-MI) to include guaranteed registry access to Medicare claims data. Similar discussions are under way with Sen. Lamar Alexander (R-TN) and Sen. Patty Murray (D-WA), who are leading the Cures revamp in the Senate. The goals for Cures 2.0 include more diversity in clinical trials, accelerating approval of breakthrough drugs and devices, and increasing patient engagement in health care decision-making.
---
Bill Improving Access to Care for Seniors Gains Support
A measure that would help remove regulatory barriers and improve access to care for seniors has reached an important milestone in the House. The Improving Seniors' Timely Access to Care Act of 2019 now has 220 cosponsors, meaning that it should have enough support to pass. STS has advocated for passage of this legislation, which would establish an electronic prior authorization process, minimize the use of prior authorization for routine services, and prohibit the use of prior authorization for medically necessary services performed during pre-approved surgeries or other invasive procedures. A vote on the bill has not been scheduled, but could be included as part of a major COVID-related package.