Access STS 56th Annual Meeting Online
If you were unable to attend the Annual Meeting in New Orleans, or if you are looking for online learning opportunities, you can now purchase access to STS 56th Annual Meeting Online. This product offers more than 100 hours of educational sessions—including cutting-edge scientific sessions, talks from renowned speakers, and thought-provoking debates. If you attended the meeting, Annual Meeting Online was included with your meeting registration. To access the product, you will be required to log in with your STS username and password or the same login credentials that were used to register for the Annual Meeting. Visual instructions are available on how to log in, access the product, and view CME certificates and transcripts. If you have trouble logging in, please email einnovation@sts.org.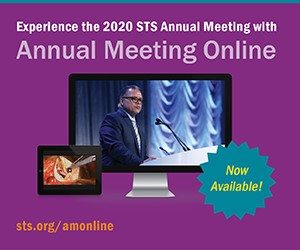 ​
---
---
---
Check Out New VSD Surgery Page, Blog Posts on STS Patient Website
The STS patient website, ctsurgerypatients.org, uses easy-to-understand language in both English and Spanish to describe various cardiothoracic diseases and treatments with text, images, and videos—and new content is added on a regular basis. The Procedures section of the website now includes a Ventricular Septal Defect Surgery page, which explains this treatment option, what to expect before and on the day of surgery, and the recovery process. In addition, various new blog articles are available to share with your patients:
---
Watch Thank You Video from STS Staff
The Society wants to thank its members for their leadership during the COVID pandemic—serving on the frontlines, overseeing COVID crisis planning, or providing valuable information for colleagues. A short video features STS staff in their home office settings sharing that "even in these uncertain times, you can be certain that the Society is here for you." Watch and let us know how you're doing at sts@sts.org.
---
Review New Applicants for Active and International Membership
Election to Active or International Membership in STS is an important achievement, validating accomplishment as a cardiothoracic surgeon by one's peers. According to the Society's Bylaws, Active, International, and Senior Members are to be notified of those applying for STS Active or International Membership prior to their consideration by the Executive Committee. Please review the current round of applicants for Active and International Membership. If you have comments about any of the candidates, send them to STS Secretary Joseph Sabik at jsabik@sts.org by June 18, 2020.
---
Update Your STS Profile
When was the last time you checked your STS member profile? Given the fast-paced nature of the specialty and the changing job market, please take a moment to log into the STS member portal and confirm that we have your most up-to-date contact information. While there, you also may want to add a profile picture and make sure that your primary discipline is recorded so that we can send you the most relevant news possible about courses, webinars, and member benefits.