Location
Providence, Rhode Island
The 2022 Advances in Quality & Outcomes (AQO): A Data Managers Meeting features sessions for all four components of the STS National Database. This year's meeting will be in Providence, Rhode Island from Wednesday, October 26-28. Data managers and surgeon leaders will come together to share valuable research and best practices with the goal of improving data collection and patient outcomes. 
View the agenda and register today. 
Intermacs/Pedimacs Participants: Award Nominations Due September 30
Nominate an outstanding ventricular assist device (VAD) coordinator for the Sherri Ann Wissman Memorial Excellence Award, which will be presented during AQO. The award recipient must be a VAD coordinator who demonstrates loyalty, dependability, and selflessness, is helpful to fellow employees and patients, and contributes to the overall quality of life of VAD patients. Submit nominations by September 30. For more information, contact Kathryn Hollifield, STS National Database Manager, Intermacs/Pedimacs. 
---
For those unable to travel to Providence, STS offers a virtual registration option. Registrants who choose the "virtual pass" will gain access to on-demand content and e-posters online before AQO and the recorded archive of all sessions following the conclusion of the meeting. (The virtual pass does not include live-streaming.)
Which option is right for you? Click the image below for details.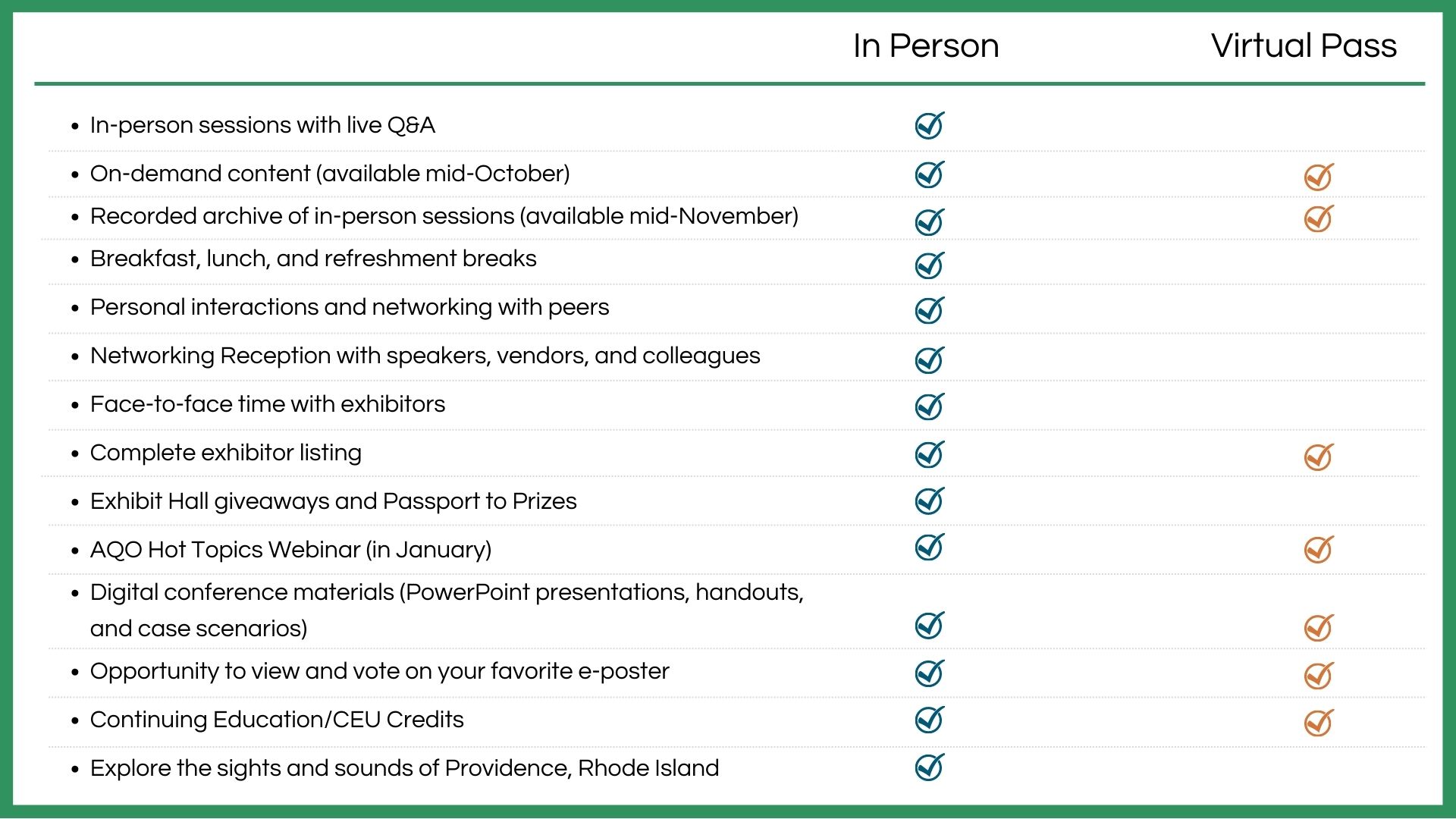 Pricing

 
STS MEMBER
Early Bird (August 26, 2022)
Standard
One Track 
$550
$650
Two Tracks  
$900
$1,100
Multi-Day (Three Tracks)  
$1,150
$1,450
Virtual Pass  
$300
$300
 
 
 
NON-MEMBER
Early Bird (August 26, 2022)
Standard
One Track 
$650
$750
Two Tracks 
$1,100
$1,300
Multi-Day (Three Tracks) 
$1,450
$1,750
Virtual Pass 
$400
$400
 
 
 
 
Early Bird (August 26, 2022)
Standard
Industry Employee
$550
$650

You'll need your STS Member ID to receive the discounted member rate. Database participation is not the same as STS membership (e.g., Active or Associate Membership). Your 6-digit STS Member ID is not your site or Database participant ID. For help with your STS Member ID, please contact Member Services.

Register now. (Print a registration form to send with check payment.)
Hotel Information

A block of rooms has been reserved at the Omni Providence Hotel (1 West Exchange St., Providence, RI  02903). The special AQO group rate of $259, plus state and local taxes, is guaranteed through Tuesday, October 4, or until the group block is sold out. Guest rooms reserved after the cutoff date or when the room block is sold out are subject to hotel availability.

How to reserve a room in the STS block:

Call 401-598-8000. Be sure to reference "AQO" or "Advances in Quality and Outcomes."

The hotel is conveniently attached to the Rhode Island Convention Center and Providence Place Mall. Make your reservation today!
COVID Information

STS requires that all professional registrants, faculty, exhibitors, guests, and STS staff be fully vaccinated against COVID-19 prior to their attendance. Attendees are considered fully vaccinated 2 weeks after the second dose in a two-dose series, or 2 weeks after a single-dose vaccine; and, if eligible, have received a booster shot. 

STS has partnered with a third-party SMS texting-based service that will manage the collection of vaccine documentation. In-person registrants will need to provide a telephone number through which they can be reached by SMS texting. Attendees will receive an invitation with instructions on how to upload their proof of vaccination in late September.