Current Issue
Image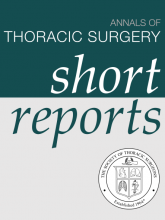 Follow Annals Short Reports on Twitter
Customized Content
Subscribe to any of 12 specially curated topic collections from Annals of Thoracic Surgery Short Reports and receive the content that matters most to you, delivered straight to your inbox. Each collection includes articles, expert commentary, case reports, and more in categories like Aorta, Congenital & Pediatric, Education & Professional Development, Mediastinum & Esophagus, and Perioperative & Critical Care. On the Short Reports homepage, scroll to Collections and click on a topic heading. On the subsequent index page, click "Subscribe to collection" to receive alerts on the subjects most relevant to you.
About Annals of Thoracic Surgery Short Reports
Annals of Thoracic Surgery Short Reports—the official fully open access companion journal to The Annals of Thoracic Surgery—provides a modern venue for authors to present their research in a digestible format, while also making it available immediately, permanently, and universally. 
This e-only publication welcomes a wide range of short-form original research related to clinical advances, current surgical methods, controversial topics and techniques, and case and image reports in adult acquired and congenital cardiovascular disease, thoracic surgery, cardiothoracic transplantation, mechanical circulatory support, perioperative medicine, as well as education and training. Engaging editorials, focused mini-reviews, educational and impactful case reports, "how to do it" technique papers, and images in cardiothoracic surgery are featured. In addition, Annals Short Reports includes a special emphasis on digital media and supplemental content, designed for easy and open sharing of data, results, and content across social media and other channels. 
Annals Short Reports follows the high standards of The Annals and is supported by the same expert Editorial Board team. The open access journal now is accepting submissions.
Manuscript Submission
The Annals publishes original research articles, new technology articles, case reports, "How To Do It" articles, "How I Teach It" articles, reviews of current literature, editorials, outcomes analyses, quality improvement articles, patient safety articles, and more.
 
Technical Support
If you have trouble logging into The Annals online, please contact our publisher, Elsevier.
Hours: Monday - Friday, 7:30 a.m. - 5:00 p.m. CT
Tel: +1 (800) 654-2452 (Toll Free US & Canada)
Tel: +1 (314) 447-8871 (Outside US & Canada)
URL: help.elsevier.com/app/answers/list/p/8050