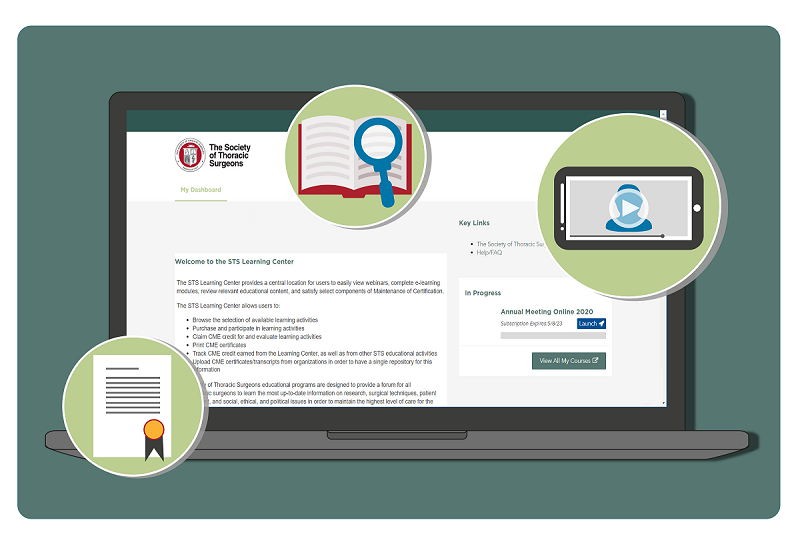 STS News, Fall 2020 — The unplanned, massive shift in knowledge dissemination over the past several months—triggered by the COVID-19 pandemic—has revealed the increasing importance of an innovative learning platform and superior education technology.
So in many ways, the long-awaited STS Learning Center is the right system at the right time, offering a reimagined model of education and a reinvented learning experience. This new learning management system, which debuted earlier this summer, will allow the Society to greatly expand and diversify its virtual offerings.
"With the new Learning Center, we can deliver a wider breadth of content, both curated and intelligently filtered, to the learner," said Ara A. Vaporciyan, MD, MHPE, former chair of the STS Workforce on Thoracic Surgery Resident Issues, and currently a director-at-large on the STS Board of Directors and member of the STS Workforce on E-Learning and Educational Innovation. "The recent events related to the pandemic and the changes it has produced means that online learning will take an even greater role in how we train throughout our careers."
STS members may not be attending live meetings and conferences right now, but the need for continued learning with content, activities, and modules that are relevant and easy to access is as important as ever.
The Society's educational programs—always designed to provide the most up-to-date information on research, surgical techniques, and patient management, as well as relevant social, ethical, and political issues—remain intensive, compelling, and high quality; other aspects such as the delivery and the look and feel have changed.
The Learning Center leverages the latest education strategies, learning technology, and delivery methods, while offering improved navigation, functionality, and searchability. The result? A personalized, intuitive learner journey and a better overall user experience.
"Online education always has been more of a learner-centric model in which the learner identifies the desired content and pace of delivery," said Dr. Vaporciyan. "The STS Learning Center offers this type of platform—the ability to have information you need, at the level of detail you want, and delivered when you are ready. This is efficient for all involved, especially the learner."
Considered the perfect vehicle to achieve the broader objective of integrating virtual and live education, the new educational platform greatly expands the Society's ability to host a varied set of content via a wide range of modalities. STS members now can easily view live or recorded webinars, participate in online interactive courses, listen to audio-based content, complete e-learning modules, and review other valuable educational content. The Society also is able to support live activities with completion certificates and online resource pages in a way that was not possible with the previous system.
In addition, the Learning Center content is optimized to display on any web-enabled device such as a smart phone or tablet. STS members are able to quickly launch any course from anywhere and easily pick up later with course and video bookmarking.
One Platform, Two Purposes
Importantly, the STS Learning Center brings together two previous systems—cardiothoracic surgery residency training and surgeon continuing medical education (CME)—into one integrated platform.
According to Dr. Vaporciyan, the new Learning Center is like an encyclopedia of cardiothoracic surgical knowledge. "We now all have access to all levels of content. The Learning Center is not just for the early learners or those who are starting their journeys into cardiothoracic surgery, but also for the intermediate learners who crave more advanced content and the established practitioners who want the most up-to-date information and may need to go back and refresh their knowledge on certain subjects," he said.
On the training side, the new Learning Center houses the Thoracic Surgery Curriculum, offering a centralized learning hub that allows program directors and faculty to design and assign packages and courses of content developed from a variety of sources. Trainees also are able to build tailored quizzes from a bank of more than 1,000 knowledge questions that cover all domains of cardiothoracic surgery, track those quizzes over time, and share results with their program directors.
This new platform also offers options to organize and deliver content through personalized learning paths or customized packages that are built around specific topics. The learning is trackable through dynamic tests, self-assessments, and evaluations to help learners assess their progress, knowledge, and skills gaps.
In addition, the training side of the Learning Center will allow streamlined access with a single sign-on. This updated authentication scheme will permit users to log in with one ID and password to multiple applications, including the Learning Center. Previously, users had different credentials for various platforms, so the single sign-on option is expected to ease the management of usernames and passwords.
"With the new Learning Center, we can deliver a wider breadth of content, both curated and intelligently filtered, to the learner."
Ara A. Vaporciyan, MD, MHPE
One important content resource now available to trainees and programs throughout the curriculum is the recently released STS Cardiothoracic Surgery E-Book. The first volume, Pearson's General Thoracic, will be available soon to a wider audience, as will the second volume, Cardiac & Congenital. The new STS e-book is a comprehensive collection of more than 330 interactive chapters featuring photographs, charts, figures, surgical videos, and original medical illustrations (see page 7).
"The new platform will allow greater flexibility to merge content from courses and programs with the richer, more detailed content that we are creating through the e-book," said Dr. Vaporciyan. "This opens up new educational opportunities that previously we were unable to provide."
It's important to note that CT surgery programs and residents currently have free access to the e-book, but future access may be contingent on program purchase of the Thoracic Surgery Curriculum.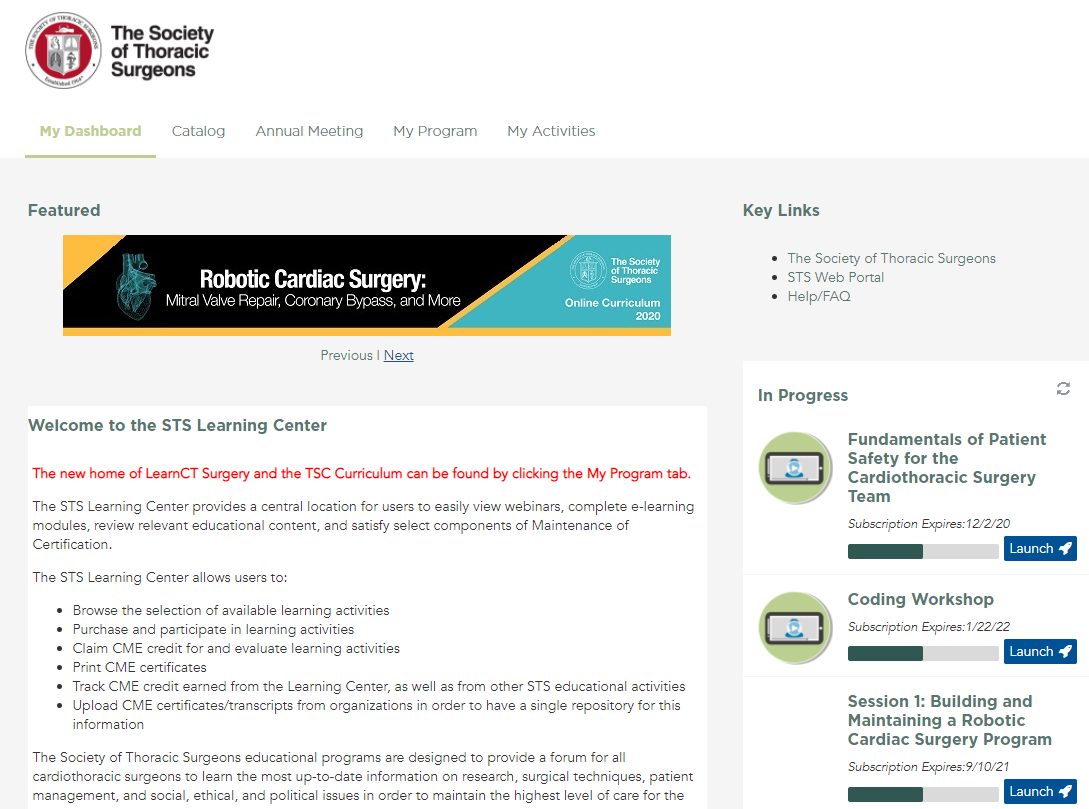 CME for Surgeons
On the surgeon CME side of the Learning Center is a seamless, cohesive learning environment that will benefit STS members as individual learners.
Annual Meeting Online is available here, and the new system also offers many enhanced features in terms of video content, including support for closed captioning, transcripts for learners, and insertion of "test your knowledge" questions right alongside the video content. These capabilities were not available on the previous platform.
Also, courses such as the "Robotic Cardiac Surgery: Mitral Valve, Coronary Bypass, and More," which feature prerecorded, narrated video lectures and demonstrations, as well as live, interactive panel discussions led by world-renowned instructors, have a home in the Learning Center (after purchase).
The first session of the Robotic Cardiac Surgery course, Building & Maintaining a Robotic Cardiac Surgery Program, was released in September. Five additional sessions will be available over the next few months. The complete course or individual sessions are available for purchase. A similar program for general thoracic robotic surgery is expected soon.
Over the coming months, additional features and activities in the new Learning Center will be introduced and the interface steadily improved to help ensure the best learner experience possible.
For more information or to review the Getting Started Guides, visit sts.org/learningcenter.