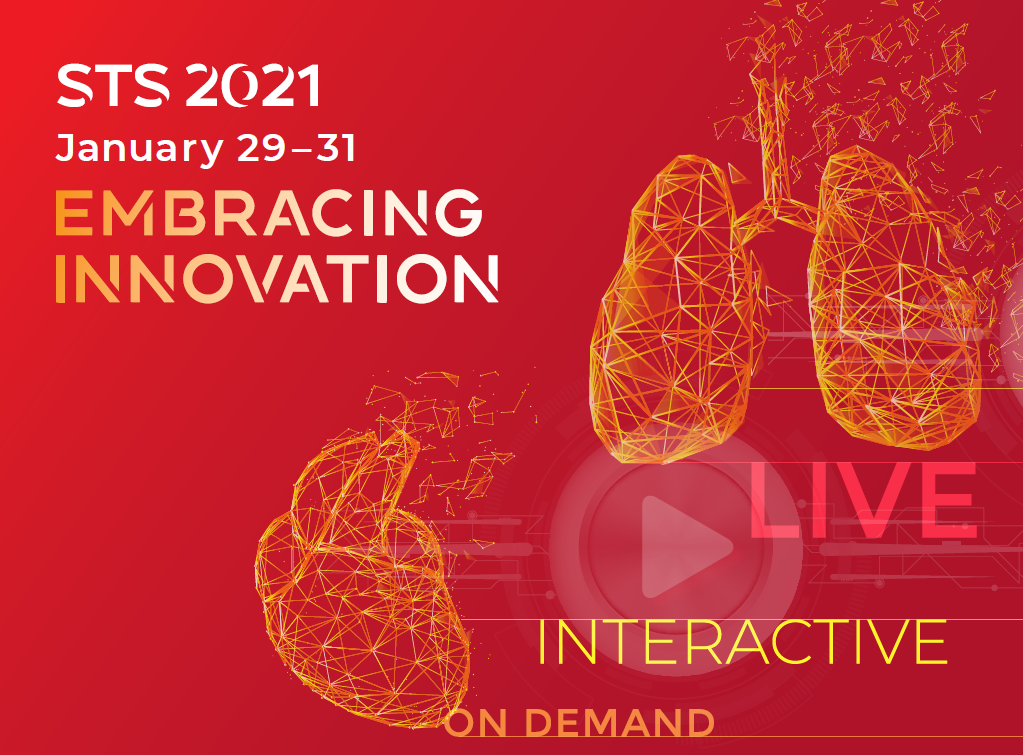 STS News, Fall 2020 — Without a COVID vaccine or an end to the pandemic firmly on the horizon, the Society made the difficult decision to forgo an in-person STS Annual Meeting in Austin, Texas, next January and, instead, create an all-digital meeting that will educate, inspire, and bring together members of the cardiothoracic surgery team from around the world.
"I've seen the sessions and features that have been planned, and I think it will be an amazing experience," said STS President Joseph A. Dearani, MD. "Our surgeon leaders and STS staff are using their intellect and ingenuity to design a meeting that is unlike any other that we've seen to date in our specialty."
STS 2021, planned Friday, January 29 to Sunday, January 31, is being built on an existing foundation of excellence, combined with the innovations of both today and tomorrow.
In expanding the reach of this event, the Society is creating an immersive digital experience that offers a blend of content and community: Sessions will be a mix of on-demand and broadcast content that will include prerecorded and live elements, panel discussions, attendee chat features, 360-degree videos, networking events, and more.
"We are developing sessions that utilize technology and offer enough variety that our attendees will remain engaged without experiencing the 'virtual fatigue' that has become common over the past few months," explained Juan A. Crestanello, MD, chair of the Workforce on Annual Meeting.
Each day of the 2.5-day meeting will feel similar to an interactive television broadcast, starting with a brief overview of what attendees can expect and a rundown of what they shouldn't miss and concluding with a recap and highlights.
The meeting will showcase the latest research and practice in all major cardiothoracic surgery disciplines via high-scoring abstracts, invited sessions, and e-posters. Tracks for residents/trainees and non-surgeon members of the health care team also will be available.
"STS 2021 will be very inclusive and intentionally laid out to avoid screen and mental fatigue," said Tom C. Nguyen, MD, a member of the Workforce on Annual Meeting and its Program Task Force. "We are including content and immersion features throughout the meeting that will provide an ongoing storyline and dialog that will keep attendees engaged and offer opportunities for connection and mentorship."
Mara B. Antonoff, MD, co-chair of the Virtual Meeting Task Force agreed that the meeting will be a standout experience. "The combination of preproduced elements and live content will provide attendees with access to cutting-edge research and global expertise in our field. The programmed tracks will be complemented by a wide range of on-demand content, giving trainees and early academicians opportunities to share their best work. We are embracing innovation and making the most out of this situation," she said.
The virtual platform and on-demand content will make it easier than ever for attendees to join whenever from wherever—no matter their time zone or location. But despite an expected record attendance, the meeting will offer opportunities for meaningful engagement and feel very intimate.
"We are planning a series of small-group sessions in which experts will interact with participants," explained Dr. Crestanello. "For example, we'll have a mitral valve repair expert talk about his or her techniques, offer tips, and answer questions. The immediacy and personal nature of the exchange will be invaluable for many people who never would have had the opportunity to interact with that expert."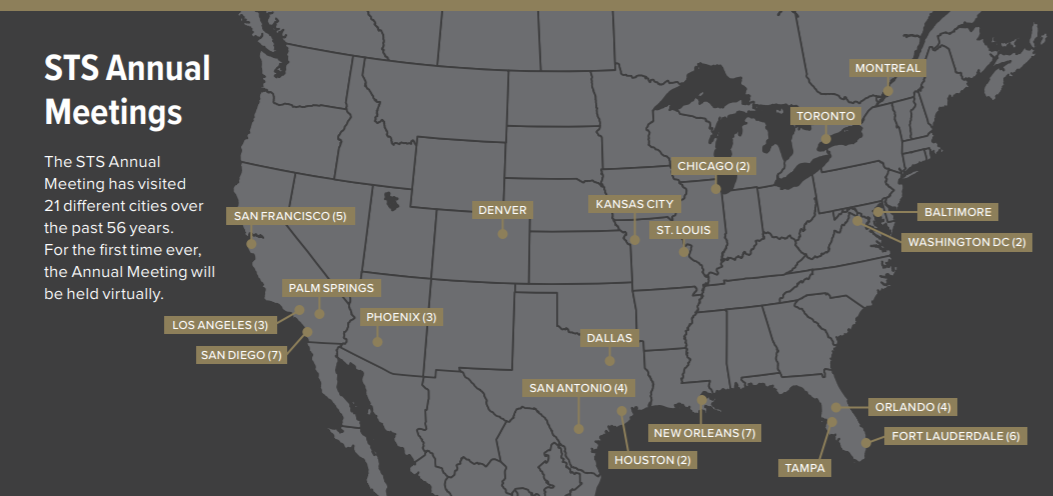 While the exact program schedule is still in the works, Saturday morning will be set aside for Dr. Dearani's Presidential Address. "It's not going to be me standing at a podium going through a bunch of PowerPoint slides; it will be a very different experience," he promised.
A cornerstone of the meeting will continue to be STS University, which traditionally has been a hands-on course. Instead of touching, feeling, and conducting various procedures, STS 2021 participants will be brought right into an operating room experience using narrated, immersive videos that display actual operative techniques. In addition, attendees will be able to see who's in the room, how they are positioned, and what equipment they are using—all without traveling to another hospital.
STS 2021 also will include an exhibit hall in a digital platform, where industry representatives will be virtually staffing their booths, while showcasing the latest products and services for cardiothoracic surgery. During the exhibit hall open hours, attendees can participate in video chats with industry, take part in a scavenger hunt for prizes, and attend social and wellness events.
Up-to-date information about STS 2021 will be available at sts.org/annualmeeting. Registration is expected to open in November, and early bird rates will be available with additional discounts for STS members.