2 min read
In 2022, the cardiothoracic surgical community turned to The Annals of Thoracic Surgery for insights on best practices for patient care, quality metrics from the STS National Database™, a glimpse at the future of surgical techniques, and much more. 
Among the top articles in 2022—in both usage and citations—were the STS/AATS Clinical Practice Guidelines on the Management of Type B Aortic Dissection, as well as an article elucidating why STS and the American Association for Thoracic Surgery did not endorse the 2021 ACC/AHA/SCAI coronary revascularization guidelines. The latter, as explored in the cover story of this issue of STS News, informed new analyses that account for the increased risks in patients with multivessel coronary artery disease, and that support coronary artery bypass grafting as the best first approach in these patients. 
The second most-viewed and most-cited article was "Current and Future Applications of Virtual, Augmented, and Mixed Reality in Cardiothoracic Surgery," a topic that reinforces the STS community's interest in adopting promising new techniques and technologies to further enhance their skills. 
Image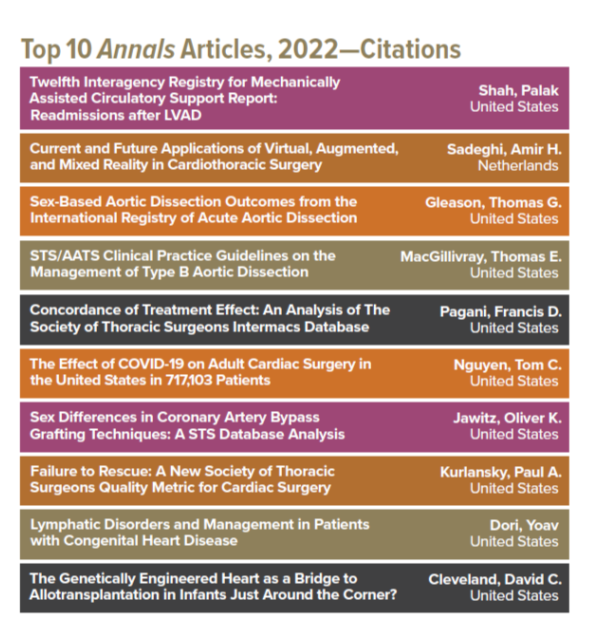 COVID-19 is still very much a relevant topic, as surgeons continue to discover the toll COVID infections—and delays in care exacerbated by lockdown—have taken on their patients in the long term. "Pulmonary Parenchymal Changes in COVID-19 Survivors," "The Effect of COVID-19 on Adult Cardiac Surgery in the United States in 717,103 Patients," and "One-Year Outcomes with Veno-venous Extracorporeal Membrane Oxygenation Support" appeared among The Annals' 10 most popular articles in usage, citations, and overall views.  
STS National Database-driven research graced the top 10 in citations. "Concordance of Treatment Effect," "Sex Differences in Coronary Artery Bypass Grafting Techniques," and the unveiling of the new Failure to Rescue quality metric provided guidance for evidence-based quality improvement.  
Novel, condition-specific applications and their implications for surgeons appeared among highly-read topics, including the surgical perspective on neoadjuvant immunotherapy in non-small cell lung cancer, rescue blanket as a provisional seal for penetrating chest wounds, lymphatic disorders and their management in patients with congenital heart disease, and topical vancomycin for reducing the incidence of deep sternal wound complications after sternotomy. 
Image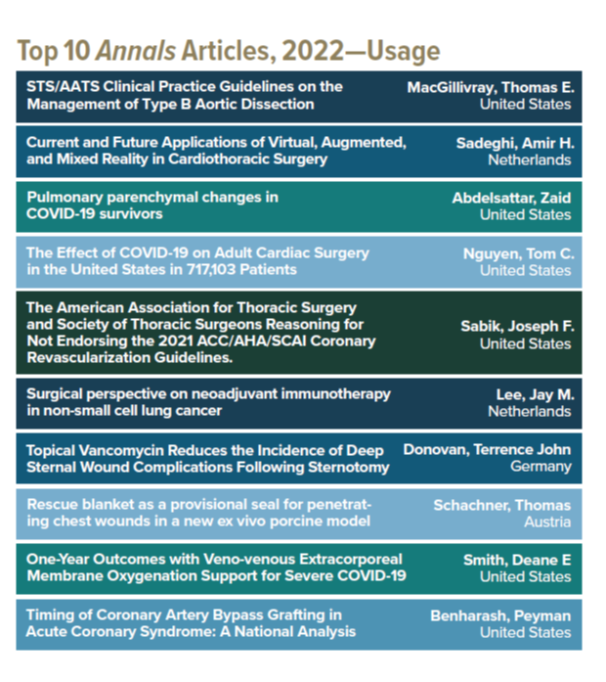 STS Members have complimentary access to the journal. Read the latest at annalsthoracicsurgery.org.