No event is complete without a social aspect. So even though the virtual format of STS 2021 prevents attendees from being physically together under the same roof, there still will be many opportunities to creatively gather and have some fun. 
The beloved STS social and wellness events will be a significant part of the weekend—woven throughout the 3 days—and offer the chance to participate in interactive shows and various workouts, as well as mix and mingle over coffee, cooking, and cocktails. 
The events are free and open to all meeting attendees. 
Entertainment
The Second City Improv 
A live show from the legendary improvisational comedy group, The Second City, will welcome attendees on the first night of the meeting. 
The evening will be full of excitement and entertainment, with customized comedy material made up of original scenes crafted by The Second City writers and based on the day-to-day life of the cardiothoracic surgery audience. Additionally, the show will feature special guest appearances by STS leadership and opportunities for interaction. And just in case more laughs are needed, the revue also will include "best of" Second City sketches and improvisation—all carefully chosen to fit the STS audience. 
Family Trivia 
Saturday night is the perfect time for a game night! 
Family Trivia is another event being offered to STS 2021 attendees, and it's free and will be fun for the whole family. 
This virtual trivia event is hosted by a live, experienced host and scored in real-time. The game can be played individually, with others in the household, or attendees can form a team and play virtually with others. No matter what, a team name and a team captain must be selected.
The open-ended questions will require reason, not just recall, making it easier for everyone to play, no matter the level of trivia knowledge. The Family Trivia competition will test participants' knowledge in entertainment, music, sports, geography, science, history, and pop culture. 
Before the main event, attendees will have the opportunity to get familiar with the technology and virtual setup, which will be via an STS private game on YouTube Live. A chat function also will be available.
Yoga, HIIT, and Meditation
Each morning of the meeting will feature a selection of various yoga, HIIT, and stress management classes. In addition, a virtual Mindfulness Lounge will be available live every morning and on demand throughout the meeting. Via this "lounge," a well-being expert will provide easily digestible training on mind-body-spirit wellness, stress relieving mindfulness and meditation techniques, as well as experiential relaxation exercise and guided visualization. When the lounge is live, 30 minutes of interactive questions and answers also will be available.
TSF Virtual Fun Run & Walk 5K 
The Thoracic Surgery Foundation—the Society's charitable arm—is hosting a Virtual 5K Fun Run & Walk. This event provides an opportunity to stay active, engage with the cardiothoracic surgery community, and take part in some healthy competition.
This virtual race gives runners and walkers the flexibility to participate:
Any day and time from January 22 to January 31
At any pace
In any location—in the house on a treadmill or outside in the neighborhood
Times will be based on the honor system and will be uploaded and compared with those of other participants. Race results will be shared on a leaderboard during STS 2021 and on social media, with special recognition given to high achievers. Don't forget to post photos on social media, using the following hashtags: #STS2021 and #TSF5K.
The cost is $50 (a portion is tax deductible), and each participant will receive a special TSF Fun Run & Walk t-shirt, which will be shipped to those who live in the United States or Canada. All proceeds will support the Foundation's cardiothoracic surgery research and education programs. Sign up at https://runsignup.com/TSF5K.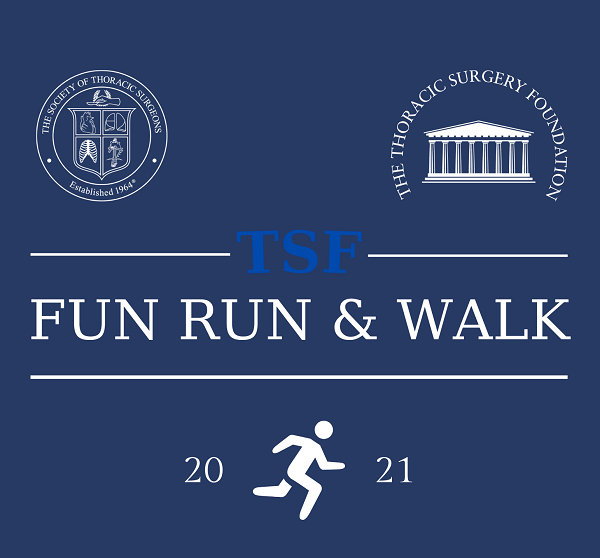 ---

If you haven't registered yet for STS 2021, there still is time to secure your spot. More information is available at sts.org/annualmeeting.