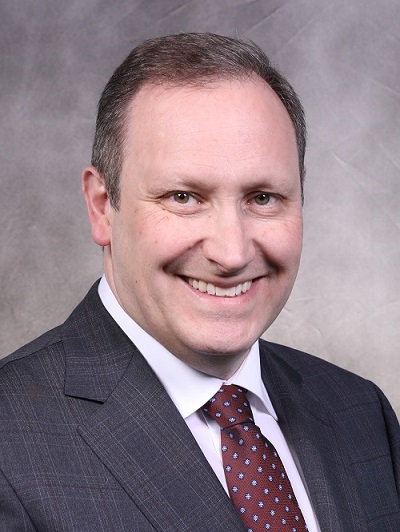 The Society of Thoracic Surgeons is saddened to announce the sudden passing of its Immediate Past and beloved president, Sean C. Grondin, MD, MPH, FRCSC.
Dr. Grondin, 56, was a thoracic surgeon at Alberta Health Services and Professor of Surgery at the University of Calgary Cumming School of Medicine in Calgary, Alberta, Canada. He served as President of the Society of Thoracic Surgeons in 2021.
Dr. Grondin was a skilled and thoughtful physician who lived an amazing life as a thoracic surgeon, teacher, mentor, leader, husband, father, son, and athlete, said STS President John Calhoon, MD. "Sean was a brilliant, passionate, and kind person," he said. "He had this incredible gift to find the right 'fit' for everything he did. It is that beautiful talent that endeared him to all. My deepest sympathies to all who knew and loved him."
 
Dr. Grondin attended medical school and completed a general surgery residency at Dalhousie University in Halifax, Nova Scotia, Canada. He completed a thoracic surgery residency at the University of Toronto, a thoracic oncology fellowship at the Brigham and Women's Hospital in Boston, and a master's degree at the Harvard School of Public Health. He completed a second fellowship in minimally invasive thoracic surgery at the University of Pittsburgh.
 
Dr. Grondin began his clinical practice at Northwestern University in Chicago before moving to Calgary. He received many awards during his career, including the Royal College of Physician and Surgeons of Canada "Mentor of the Year" award, and the James IV Association of Surgeons Canadian Traveling Fellowship award. 
 
He most recently served as a Regent for the American College of Surgeons. In addition to his clinical work, Dr. Grondin had a strong interest in developing educational programs to enhance leadership skills for faculty members and trainees. He also was involved in research related to surgical workforce planning and physician wellness.
 
Dr. Grondin is survived by his wife, Cathy, daughter, Kate, and son, Ben. 
 
Information on the memorial service will be shared when available.
 
View Dr. Grondin's STS Presidential Address from January 30, 2022.