STS News, Fall 2021 — The harrowing days-long journey from a small village in rural Mexico to the US border and over the mountains landed a young Luis Godoy on a busy freeway in southern California.
There, for the first time in his life, he saw hundreds of cars traveling at high rates of speed with their headlights shining so bright he could barely believe his eyes.
"I was watching all of these cars flying by and it was like I was on another planet or something you would see in a sci-fi movie," Dr. Godoy said.
Some 35 years later, Dr. Godoy now finds himself under the shine of similar bright lights, but these are overhead in the operating room as he performs life-saving general thoracic surgeries at UC Davis Health in Sacramento, California.
His winding path toward medical school and a career in cardiothoracic surgery, though, was a little less straightforward—but nonetheless complicated—than his immigration to the US.
Dr. Godoy also gained a strong work ethic in his early years, while working with his parents in the fields. He vividly remembers despising the back-breaking work of picking peaches and nectarines, but later on, he came to appreciate how that experience shaped him.
However, as the son of immigrant farm workers, Dr. Godoy explained that he struggled with this identity and experienced bullying and teasing in middle school because he didn't have fancy shoes and trendy clothes. He realized that nobody "messed with" gang members, so he convinced himself that he should join a gang in order to feel protected and respected. By the time he was in the 10th grade, he had been in several fights and other trouble, which resulted in expulsion.
"I had no intentions of going back to school. My plans were to work and start making a living at that point," he said.
Within a few months, though, Dr. Godoy started thinking about returning to school. In fact, he remembers the day he made that decision. It was a cold winter morning around 4:00 a.m., and he was lying in bed, listening to his parents, Vidal and Victoria, getting ready to work in the fields.
"They were working these hard jobs in order to provide for their family and give us a better future," he said. "I was thinking to myself what a disappointment I must be and how I must be letting them down after all of the sacrifices they made for us. I felt this extreme sense of guilt."
That was a major turning point for Dr. Godoy. 
He enrolled in independent study and worked three jobs. Without the distractions and social influences of other students, he exceled in his studies and graduated high school. Dr. Godoy also become a teenage father at that time, which motivated him to find work that offered stability and allowed him to better support his young family. He earned his associate degree and became an X-ray technician.
Not until his mid-20s did Dr. Godoy decide that he wanted to go to college and eventually pursue a career in medicine. But this decision was not an easy one and was full of hesitancy. Dr. Godoy did not fear trying to become a doctor and failing; he feared never trying at all.
"I didn't want to be in my 60s, sitting on a porch somewhere wondering if I could have done it, wondering what would have happened if I had gone back to school," he said.
"It's a great responsibility to not only stop the heart, but fix it, restart it, and then see it function like it's intended to."
 
Luis A. Godoy, MD
With the full support of his wife Rita, who has been by his side for more than 25 years, Dr. Godoy attended UC Davis for his undergraduate studies, continuing to work and study full-time. He then was accepted into the School of Medicine.
"Medical school was the best time of my academic career," Dr. Godoy explained. "That was the first time when I was a full-time student and didn't have to balance school with jobs. I was able to focus 100% on my studies and immerse myself in the material. I enjoyed learning about the human body, how it works, the dysfunctions, the anatomy, and the physiology. For the first time in my life, I was studying something that I was so interested in. I thrived as a medical student."
During his third-year rotations, even though he went in with an open mind, Dr. Godoy quickly realized that in cardiothoracic surgery, everything he loved about medicine came together in an intricate balance.
"I loved the anatomy and physiology of the chest. I enjoyed the variety of the operations that I saw. It's a great responsibility to not only stop the heart, but fix it, restart it, and then see it function like it's intended to. In addition, there are few things more gratifying than telling a patient that you have removed their lung cancer. Speaking with the families and the patients afterward—those are the things that make all of the sacrifices of undergrad, medical school, and residency worth it," he said.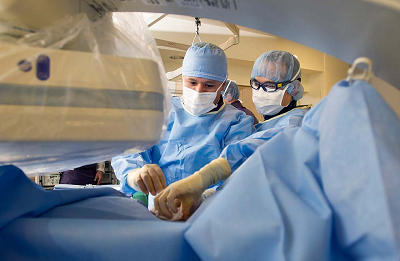 Throughout medical school, Dr. Godoy came to fully understand and truly appreciate the importance of mentors. He recalls working closely with and receiving instrumental advice and encouragement from J. Nilas Young, MD, and Francis J. Sousa, MD. David Tom Cooke, MD, also has been an incredibly influential mentor for Dr. Godoy.
"Dr. Cooke has guided me along the way and presented me with tremendous opportunities from when I was a medical student, through residency, and now he's my division chief and a partner of mine. I can't say enough about the guidance that I've received from him," said Dr. Godoy.
Importantly, Dr. Godoy works to "pay it forward" by providing mentorship to first-generation students who have similar backgrounds as he does. He works with students who are trying to navigate their way through undergraduate studies and attend medical school. In addition, Dr. Godoy provides community outreach, exposing high school students to cardiothoracic surgery. The programs he sponsors include shadow days, suturing workshops, surgery seminars, and presentations at the local high schools.
"One of the most impactful lessons that I have learned and that I share is this: with the right amount of determination, persistence, work ethic, curiosity, and dedication, anything is possible. I'm living proof of that. Focus on taking one step at a time, one foot in front of the other, and ultimately you'll cross the finish line."
An STS Candidate Member, Dr. Godoy currently serves on the STS Workforce for Diversity and Inclusion.
If you know of a unique member experience that should be featured in STS News, contact stsnews@sts.org.