STS News, Spring 2022 — With a current pipeline showing steady gains of female trainees, the cardiothoracic surgery workforce may be on the verge of changing.
This is according to research that examined data from the active membership directories of four cardiothoracic surgery societies: STS, the American Association for Thoracic Surgery (AATS), the European Association for Cardio-Thoracic Surgery (EACTS), and the Asian Society for Cardiovascular and Thoracic Surgery (ASCVTS).
The comprehensive analysis—which offered a snapshot of the global cardiothoracic surgery workforce—was presented during the Society's Annual Meeting in January.
"What is unique about this work is the breadth of our capture," said study author Barbara C.S. Hamilton, MD, MAS, from the University of California San Francisco (UCSF). "Understanding our global workforce is challenging, and survey data are inherently biased. Our data acquisition was novel, with our research using membership data that did not require any additional input from members. We attempted to obtain a more global and less biased representation of our workforce."
Dr. Hamilton and colleagues queried the organizations' membership directories. A total of 12,053 profiles were included in the study. The researchers found that the membership is overwhelmingly male (93%). As far as female members, EACTS has the highest proportion (9%), and ASCVTS has the lowest (3%). STS membership is 6% female.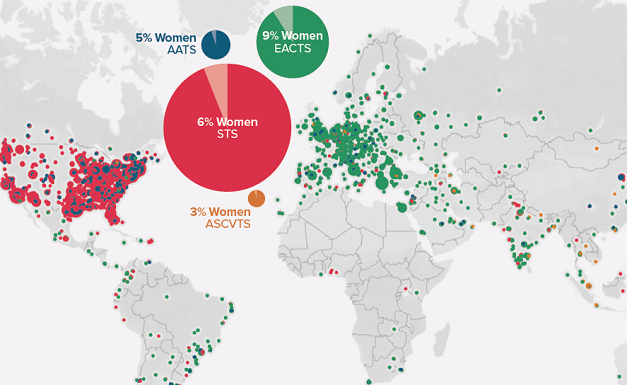 The Shift
Although the current workforce still is predominantly male, more female representation awaits in the trainee population, according to Dr. Hamilton.
The researchers found that 25% of EACTS trainees were female (trainee data were not available for STS, AATS, or ASCVTS). In addition, data from the Association of American Medical Colleges (AAMC) show that the proportion of female cardiothoracic surgery trainees has grown—from 15% in 2007, to 19% in 2011, and 26% in 2020.
"Thankfully there seems to be a larger proportion of female trainees in cardiothoracic surgery than the proportion of practicing female surgeons, which gives hope that we are beginning to change and progress," said Dr. Hamilton.
Importantly, the representation of women in the active cardiothoracic surgery workforce also has consistently increased, from 4% in 2007 to 8% in 2020, according to AAMC data. However, cardiothoracic surgery remains one of the most unevenly gender-distributed specialties.
"We have come a long way since the original STS membership survey in 1976, when a question on sex was not even included," the researchers stated in the study article.
'Long Way to Go with Diversity'
One of the first women to pursue a career in cardiothoracic surgery was Nina Starr Braunwald, MD. Dr. Braunwald achieved many other female firsts as well: She was the first woman to perform open heart surgery; the first woman to be certified by the American Board of Thoracic Surgery; and the first woman to be elected to AATS.
But more than 60 years after she entered the specialty, men still dominate the world of cardiothoracic surgery. This is despite the fact that women now outnumber men in US medical school enrollment—in 2019, for the first time, the majority of medical students were women (50.5%), according to the AAMC.
"We are in danger of being unable to evolve and grow as a specialty if we do not aggressively support and promote young and female surgeons," Dr. Hamilton said. "We must work harder to not just attract but also retain, support, and increase the visibility of female and other underrepresented trainees and surgeons for our specialty to find longevity and sustainability."
Among the four organizations—STS, AATS, EACTS, and ASCVTS—there are 788 female members. Interestingly, within this group, most practice academic medicine (60%), but only 5% are full professors.
"With such a dearth of female representation in the upper echelons of cardiothoracic surgery academia, it can be hard for young and especially female trainees to believe this is a specialty in which they can achieve success," said Dr. Hamilton.
In addition, Dr. Hamilton explained that cardiothoracic surgery has a "long way to go with diversity, both in terms of age and sex." Her team's research showed that the median age within the specialty is 63 years, and 64% of members are in the later stages of their careers.
"We are very unbalanced in terms of who makes up our surgical practice, and we are overwhelmingly male and old," said Dr. Hamilton. "We work in a fantastic field that medical students, both male and female, find exciting and unique, but we lose many of these candidates, especially women, along the way."

Why? Other research has shown that the perceived barriers for female trainees considering a career in cardiothoracic surgery include implicit and explicit bias, lifestyle factors, and lack of mentorship and role models. A study from Maria S. Altieri, MD, MS, et al. determined that cardiothoracic surgery was perceived as the least receptive specialty for women. Further, 57% of cardiothoracic surgeon respondents would advise only men to pursue a career in the specialty.
Cardiothoracic surgery holds a serious responsibility to change this narrative and create action on both individual and leadership levels, and additional research focusing on the disparities in cardiothoracic surgery is a must, Dr. Hamilton emphasized.
"We have made small strides in some areas, but plentiful opportunities exist for continued growth and development. It is crucial that we wake up to these issues," she said.
Coauthor Tom C. Nguyen, MD, from UCSF, added, "This is the first and largest global snapshot of our cardiothoracic surgery workforce. Understanding who we are is incredibly important as we shape the future of where we are going."