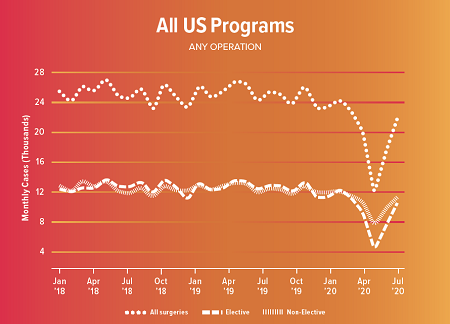 STS News, Spring 2021 — In the past year, COVID-19 has altered or halted virtually every aspect of society, and the practice of cardiothoracic surgery has not been immune.
The abrupt cessation of surgery in mid-March 2020 had and will continue to have far-reaching implications, as the negative effects of canceled and postponed procedures emerge.
A recent, comprehensive analysis of data from the STS National Database illustrates the sharp reduction of adult cardiac surgery volumes during the first wave of the pandemic and also shows the resulting consequences on surgical outcomes.
This research—the first of its kind, according to study author Tom C. Nguyen, MD, from the University of California San Francisco—was presented during the Society's Annual Meeting in January.
"The study was a true herculean analysis and tour de force," said Dr. Nguyen. "The pandemic has changed the world as we know it, causing a dramatic drop in adult cardiac surgery volume and worsening patient outcomes."
Dr. Nguyen and colleagues queried the STS Adult Cardiac Surgery Database for data from January 1, 2018, to June 30, 2020, and The Johns Hopkins COVID-19 Dashboard from February 1, 2020, to January 1, 2021.
The group examined information on 717,103 adult cardiac surgery patients and more than 20 million COVID-19 patients. They found that from December 2018 to December 2019, approximately 24,000 cardiac surgeries were performed per month in the United States. However, in April 2020, the average number of cases dropped to 12,000, representing a 53% decrease nationwide in all adult cardiac surgery volume. Also that month, there were 65% fewer elective cases and 40% fewer non-elective cases in the country.
In addition, the data showed that no matter the procedure—isolated coronary artery bypass grafting (CABG), isolated aortic valve replacement (AVR), isolated mitral valve replacement (MVR), CABG+AVR, CABG+MVR, isolated MV repair, and CABG+MV repair—there was a significant decline in case volume—54% overall—when compared to 2019.
"Only the STS National Database has the level of granularity, COVID variables, and longitudinal follow-up to answer the questions posed in this important study," said Dr. Nguyen.
While the early stages of the pandemic clearly induced a surge of untreated patients, case volumes did not fully return to baseline after the initial COVID storm. It is unclear if these untreated patients were ever treated, according to Dr. Nguyen.
In Ontario, Canada, Vivek Rao, MD, from the University of Toronto, performed a similar analysis and observed like patterns of dramatic reductions in cardiac surgical procedures. "While we all expected a flood of patients to return as we resumed normal activity in the fall of 2020, this did not occur," he said. "In fact, right through to November 2020, we never quite achieved our prepandemic volume, which begs the question: What happened to those hundreds if not thousands of patients who didn't seek cardiac surgery during the height of the first wave of the pandemic? The sad fact is many of them simply died while avoiding hospital care for their cardiac disease."
Studies like these "highlight the fact that cardiac disease remains an important killer of men and women in North America which should not be obfuscated by the pandemic that we're currently in," he added.
Causes of this COVID Consequence
As for what may be causing the additional mortality risk, Dr. Nguyen explained that it's multifactorial, with COVID-19 infections likely playing a role. In addition, in many cases, surgeons have been limited to operating on only the most urgent coronary bypass cases and patients who tend to be sicker.
Robbin G. Cohen, MD, MMM, from the Keck School of Medicine of the University of Southern California in Los Angeles, stressed that research like this should not deter patients from seeking care for chest pain or other cardiac symptoms. "If anything, it is a warning to get into the system as soon as possible," he said.
Additional Studies and Future Revelations
It's important to note that this research included data tallied only through June 2020 and does not include the fall and winter, when the second surge of COVID-19 was—in many parts of the country—even worse than in the spring.
The good news is that anecdotal evidence suggests hospitals managed better the second time around due to factors such as more reliable supplies of protective equipment and established COVID-specific routines, according to Dr. Nguyen.
Moving forward, the researchers plan to further drill down into the data and conduct many more "granular" analyses that will examine trends and outcomes of COVID patients vs. non-COVID patients, as well as delve more deeply into the COVID effect on specific adult cardiac procedures such as aortic dissections.