7 min read
STS News, Summer 2021 — When determining salaries for cardiothoracic surgeons, institutions and health systems often rely on survey data—but these data vary significantly from survey to survey and don't represent the highly nuanced variables of cardiothoracic surgery discipline, practice type, regional demand, and value units, surgeon leaders say.
In the academic realm, for example, the Association of American Medical Colleges (AAMC) ranks cardiothoracic surgeon salaries third among the highest average compensation for combined assistant professor, associate professor, and full professor rankings.
The salary range, however, doesn't make a distinction among the various cardiothoracic disciplines, explained John S. Ikonomidis, MD, PhD, from the University of North Carolina in Chapel Hill.
"The primary issue with AAMC data is that they do not separate adult cardiac, general thoracic, and congenital heart surgery," said Dr. Ikonomidis, who serves on the STS Workforce on Clinical Education and has authored the last two STS practice surveys. "The salary lines for these three disciplines are different in terms of amount, and because that's not reflected in the AAMC data it impacts the surgeon's ability to negotiate."
STS recently sent a letter to the AAMC, urging it to report on cardiothoracic surgery salaries by discipline rather than in the aggregate so that the specialty has a clearer representation of the marketplace.
Medical Group Surveys Target Similar Datasets, Different Practice Sizes
The 2021 report of the American Medical Group Association (AMGA), aggregated from 2020 data, represented two categories of interest to cardiothoracic surgeons: "Cardiac/Thoracic Surgery" and "Cardiac/Thoracic Surgery—Pediatrics." The mean reported salary, available courtesy of the author, Elizabeth Siemsen, AMGA consulting director, was $810,933 for the former category and $827,618 for the latter.
Regional breakdown data will be available from AMGA this summer. The 2020 non-pediatrics category included responses from 54 medical groups and 220 providers, while the pediatrics cohort was comparatively small, including 14 groups and 31 providers. Dr. Ikonomidis points out that this smaller response was not due to there being such a small community of providers but to a low response rate—underscoring the value of active participation and transparent responses from surgeons.
"Cardiothoracic surgeons in negotiation should be individually prepared to advocate for favorable arrangements related to their personal high-priority issues, perhaps in exchange for less-favorable arrangements on matters less important to them."
J. Michael DiMaio, MD
Whereas AMGA data are derived mainly from larger medical groups (approximately 64% of its survey base is composed of groups employing 151 physicians or more), the Medical Group Management Association (MGMA) surveys a similarly sized cohort but leans toward smaller medical groups or individual  providers. The average number of providers per group in the AMGA dataset is 430, while MGMA averages around 24.5 per group.
MGMA also takes a different approach to distinguishing surgical disciplines, employing the categories "Surgery: Cardiovascular" and "Surgery: Thoracic (Primary)" in the cardiovascular surgery realm. It uses 50th percentile results to report median salaries of $799,663 for cardiovascular and $650,000 for  thoracic surgeons.
STS Workforce Report Drills Down to Disciplines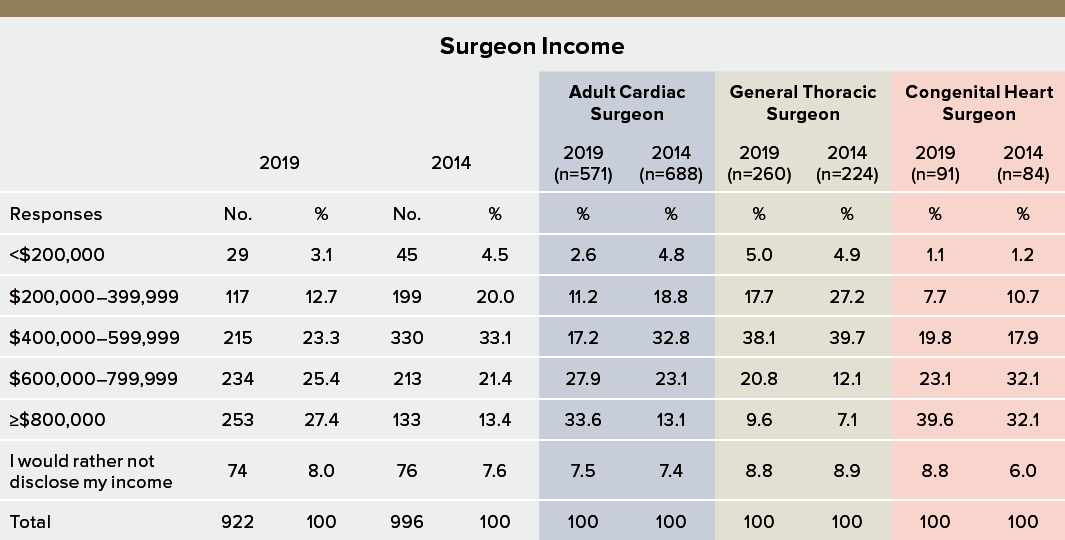 Both overall averages and breakdowns by discipline are illustrated in the STS practice survey, conducted every 5 years. In the most recent survey, 60.9% of responding surgeons reported an income of $200,000 to $799,999 per year, compared with 74.5% for respondents in the previous survey in 2014. Salaries increased for many—the percentage of surgeons reporting an income of $800,000 or more increased from 13.4% in 2014 to 27.0% in 2019. The most selected income range among those provided, reported by 24.8% of respondents overall, was $600,000 to $799,000 per year.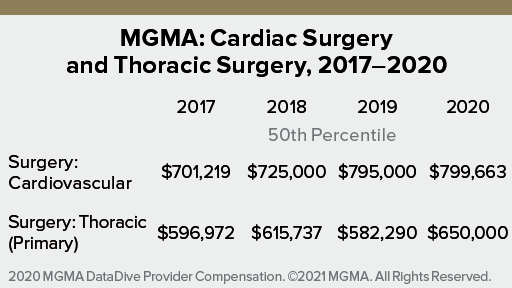 The STS Special Report published in the September 2020 issue of in The Annals of Thoracic Surgery further delineates salary ranges for adult cardiac, general thoracic, and congenital heart surgeons, and while all disciplines experienced a jump in income between 2014 and 2019, the variance among each group was significant. Among adult cardiac surgeons, the percentage reporting incomes in the $600,000 to $799,999 range was 27.9%, in contrast to 20.8% for general thoracic and 23.1% for congenital. As incomes rose, they did so most dramatically for adult cardiac surgeons—33.6% reported an income of $800,000 or above. The largest percentage of respondents in the $800,000 or above range were congenital heart surgeons—39.6%—while only 9.6% of general thoracic surgeons reached that range.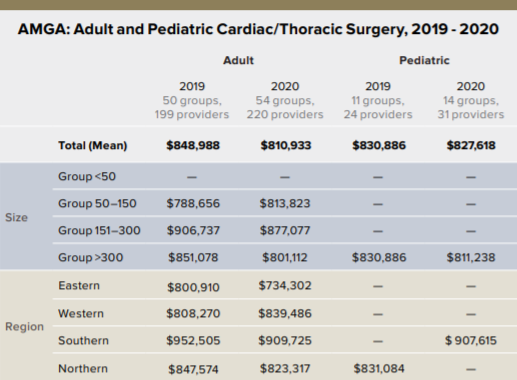 Relative Value Units Prove of Relative Value
More than half of surgeons in the STS workforce survey reported that their income included a bonus structure, and the most common basis for these bonuses were work relative value units (RVUs), quality metrics, or "citizenship"—which can include anything from patient and staff satisfaction to community outreach to committee participation and meeting attendance.
These bonus measures can be problematic at every career level, and salary reports may not take them into consideration, said J. Michael DiMaio, MD, who serves as chair of the STS Workforce on Practice Management and practices at Baylor Scott & White Cardiac Surgery Specialists in Plano, Texas.
As Medicare reimbursement rates decline and advocates fight to stave off massive cuts for cardiac and thoracic surgery, surgeons find themselves increasingly pressed upon to demonstrate their value to patients and the health care system, said Dr. DiMaio. "However, the overall contribution of a cardiothoracic surgeon can be difficult to measure, and it varies widely depending on a host of factors, including practice setting, experience, subspecialization, and the local market," he said.
RVUs are assigned by the Centers for Medicare & Medicaid Services based on surgeon billing of CPT and ICD-10 codes. Each code carries a corresponding RVU that determines the total surgeon payment, and the formula distributes one RVU each for physician work, practice expense, and professional liability expense. Each component is adjusted depending on the surgeon's geographic location, accounting for variations in cost of living, overhead expenses, and practice premiums.
"Virtually all of the clinical tasks a cardiothoracic surgeon performs have been assigned a work RVU, but complexity arises in determining how much each RVU is worth and how much of that value should go directly to physician compensation," said Dr. DiMaio. He noted that a surgeon's practice setting—private, academic, or hybrid—plays a major role in determining the model for compensation. Surgeons in private, non-academic practices are usually heavily focused on clinical productivity because that's what generates income, while for academic surgeons, non-clinical responsibilities like research, education, and national leadership roles—which unarguably benefit the mission of the academic center—aren't typically tied to any direct form of reimbursement, leading them to seek income from other sources.
A hybrid model accounting for both clinical and academic activities could be mutually advantageous to both the surgeon and the health care system, Dr. DiMaio points out, because it allows the surgeon to offload financial risk without a total sacrifice of autonomy in practice. "Meanwhile, the health care system ensures a minimum availability of the desired surgeon's services with persistent motivation for the surgeon to remain clinically busy and generate high-quality outcomes."
"Cardiothoracic surgeons must consider a host of other issues that impact their personal salary negotiations," Dr. DiMaio explained. "These include practice focus, subspecialization, unique surgeon skills, practice location, length of training, and educational debt. And with the increasing subspecialization of cardiothoracic trainees into dedicated cardiac, thoracic, and congenital tracks, not all 'cardiothoracic' surgeons should be lumped together when negotiating compensation."
Surgeons Should Be Advocates—for Themselves and the Specialty
So what can individual surgeons do to safeguard their own salaries? Drs. Ikonomidis and DiMaio advise reading up on the nuances.
Also importantly, respond to workforce surveys. "When I first got involved with the Workforce, 10 or 15 years ago, we had response rates of over 50% from our membership," Dr. Ikonomidis said. "Now the response rates have dropped considerably. And I think the reasons for that are myriad—we're all inundated with emails, we're all inundated with survey requests, and this is yet another survey. But it's very valuable."
Surgeons also should keep in mind what's personally important to them, Dr. DiMaio advised. Non-financial benefits such as parental leave, vacation policy, call coverage, awarded titles and academic rank, and protected time for research and professional development are valuable in different degrees among individual surgeons. "Cardiothoracic surgeons in negotiation should be individually prepared to advocate for favorable arrangements related to their personal high-priority issues, perhaps in exchange for less-favorable arrangements on matters less important to them," he said. 
The next STS practice survey will be conducted in 2024.