5 min read
STS News, Spring 2022 — Payments for individual physician services have been regulated for nearly 3 decades by policies that are designed to control against dramatic increases in Medicare spending. The following are existing issues that likely will impact proposals for Medicare reimbursement in the coming years.
Budget Neutrality
Changes to Medicare reimbursement go into effect every January 1 based on reallocation of relative value units (RVUs), which represent estimates of physician work, practice expense, and malpractice. Adjustments to RVUs that result in a cumulative change of more than $20 million must be budget neutral, meaning that increased payment for one service or procedure must result in a proportional decrease for others.
Base Updates to the Conversion Factor
Medicare payment is the product of RVUs and the Medicare "conversion factor," which the Centers for Medicare & Medicaid Services (CMS) sets annually. When the Medicare Access and CHIP Reauthorization Act of 2015 (MACRA) was first passed, it provided base updates to the conversion factor through the 2019 payment year to encourage providers to migrate from the Merit-based Incentive Payment System to Alternative Payment Models (APM).
Beginning in payment year 2026, MACRA will provide small base updates to the conversion factor that will differ based on whether CMS views the provider as delivering the service under the jurisdiction of MIPS (0.25%) or under participation in an Advanced APM (0.75%). Although the Society's efforts to create its own APM have been unsuccessful, STS negotiated to have its quality measures included as alternative measurement options in the CMS Bundled Payments for Care Improvement–Advanced program.
E/M Adjustments
Medicare currently pays surgeons and other specialists a single fee (global payment) covering the costs of the procedure plus related care within a 10- or 90-day timeframe.
In 2015, CMS declared that postoperative visits included in the global surgical reimbursement were not taking place and proposed to eliminate global surgical payment. As a result of STS advocacy demonstrating that the elimination of global surgical payments would undermine quality of patient care and increase the administrative burden on cardiothoracic surgeons, Congress passed legislation that required CMS to collect data on global codes before making a change.
CMS still claims to be studying this issue while continuing to publicly express doubt that all postoperative visits included in the global period valuation are performed.
In 2020, CMS increased evaluation and management (E/M) payments for in-office visits but did not make the analogous changes to similar services included in the globals. The agency also created an add-on code that could be used to increase the relative value of an in-office E/M visit even more. The surgical community advocated against these changes, and Congress required CMS to postpone payment for the add-on code until at least 2024.
Because these changes are subject to budget neutrality requirements, cardiothoracic surgeons not only miss out on the increase commensurate with the E/M adjustments and add-on payments, but end up paying for the increase out of their own reimbursement.
Inflation
Unlike other aspects of Medicare reimbursement, Medicare Part B reimbursement has not been updated for inflation. This year, the absence of an inflationary update could be devastating as there already has been dramatic inflation, and the global economy is in tremendous flux.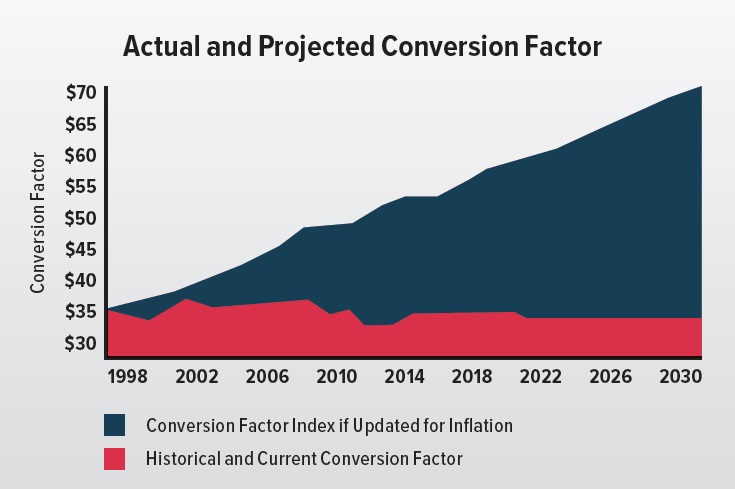 Help Fight to Preserve Medicare Reimbursement Rates
Cardiothoracic surgeons will experience a 2% pay cut in 2022 (averaged over 12 months)—even as the health care system begins to recover from the COVID pandemic. Alarmingly, these cuts resulted from budgetary policies impacting the entire health care system, not just the Medicare Part B policies described above.
The specialty can expect cuts from any or all of these policies in the coming year. The voices of all STS members will be needed to defend against this swelling crisis.
If you are interested in getting involved in advocacy efforts, plan to attend the 2022 STS Advocacy Conference in Washington, DC, September 19-20.
Additionally, to have a direct impact on legislative issues that affect cardiothoracic surgeons, sign up for the Key Contact Program at sts.org/keycontact. For more information, contact the Government Relations Department at advocacy@sts.org.
---
How has your experience been serving on the STS Workforce on Health Policy, Reform, & Advocacy?
My involvement on the STS Workforce on Health Policy, Reform, & Advocacy has been educational and productive. As a resident, the opportunity to learn from thought leaders in the field and develop my advocacy skillset early in my career is invaluable. No background in advocacy is required; I had no prior experience when I joined. STS staff and members go out of their way to support new participants. I highly recommend participation in the workforce.
How have you engaged with your lawmakers at home?
In addition to using the Legislative Action Center, I participated in the 2021 STS Virtual Advocacy Conference, meeting with the offices of Rep. Bob Good (D-VA), Sen. Tim Kaine (D-VA), and Sen. Mark Warner (D-VA). This was very worthwhile and helped me establish ongoing relationships with Congressional staff. Also, I have found emailing directly with policy advisors and staff to be effective, and it provides a more personal touch and increases engagement. I encourage STS members to reach out to their representatives. The STS Government Relations team is willing and eager to help facilitate these meetings.
What would you say to your fellow STS Members to encourage them to become involved?
I would emphasize how easy it is to get involved, that all contributions matter, and that ultimately the future of our specialty and the health of our neighbors depends on it.