STS News, Winter 2022 — Learning how to manage professional challenges such as workload and remaining up to date on clinical advances are more important than ever for STS members, according to the most recent triannual member needs assessment.
Conducted online for 5 weeks during June and July 2021, the survey generated responses from 745 members (10%).
Compared to previous surveys, an even higher percentage of members were employed by universities and hospitals, 81% in 2021, a percentage that has grown steadily from 66% in 2012.
This shift away from private practice into employment arrangements may be one of the reasons why an increasing percentage of members identified "managing work-related pressures" such as workload and work-life balance as their top professional challenge. In the current survey, 38% of members selected this challenge, compared to 33% in 2015. Other high-scoring concerns included staying up to date on clinical advances (31%), career progression (29%), and competition from other specialties (25%).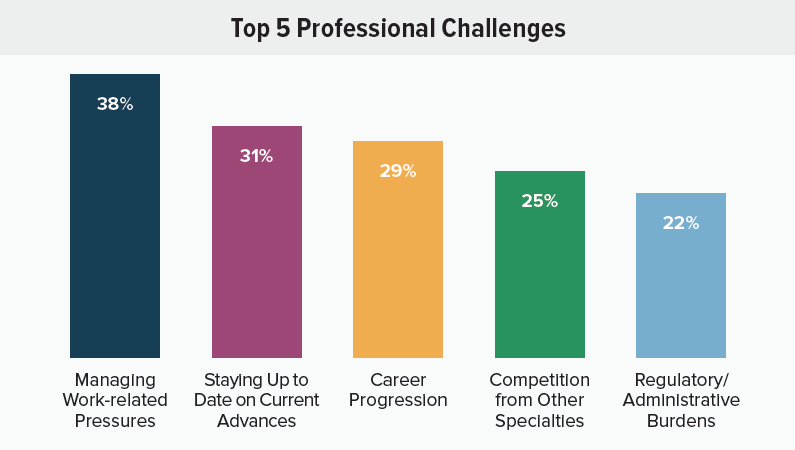 General thoracic surgeons were the most concerned about work-related pressures when compared to their counterparts, while cardiac surgeons were the most concerned about competition from other specialties. Congenital heart surgeons and trainee members were the most concerned about career progression; staying updated clinically was a major concern for Candidate Members and International Members. In addition, trainees also were very concerned about learning how to conduct and apply research.
"We appreciate everyone who took the time to complete this important survey," said STS President Sean C. Grondin, MD, MPH, FRCSC. "We are listening to our members and are focusing on enhancing current programs and developing new ones that will help ensure that cardiothoracic surgeons remain essential leaders of the care team. These programs include timely, relevant education in multiple formats and wellness efforts that support the mental and physical wellbeing of our members."
The membership benefits valued by the majority were The Annals of Thoracic Surgery (87%), followed by STS newsletters (75%), and live educational courses such as the STS Annual Meeting (75%).
"We are confident that with Dr. Joanna Chikwe taking over as our new Annals editor, she will continue to improve the content, presentation, and impact of the publication, as well as make it even more valuable to our members and the medical profession," said Dr. Grondin (see cover story).
Although the member needs assessments provide a great opportunity for members to provide feedback to the Society, members are welcome to contact STS at any time during the year at sts@sts.org.