The COVID-19 pandemic has impacted hospital resources in unprecedented ways, forcing frontline providers to make informed and agile decisions about resource allocation. 
To assist these health care providers in triaging adult cardiac surgery cases, STS has developed an interactive and easy-to-use COVID-19 Resource Prediction Instrument based on 10 years of data from the STS Adult Cardiac Surgery Database (ACSD). 
This new instrument provides a rapid estimate of ventilator hours, ICU time, transfusions, and risk of acute reoperation. It can be used in conjunction with the recently released STS Resource Utilization Tool, which provides national averages of many resource measures based on the most recent 2-year period in the ACSD by using appropriate data filters.
Both are free, available for anyone to use. 
For more information, contact the STS Research Center at research@sts.org​.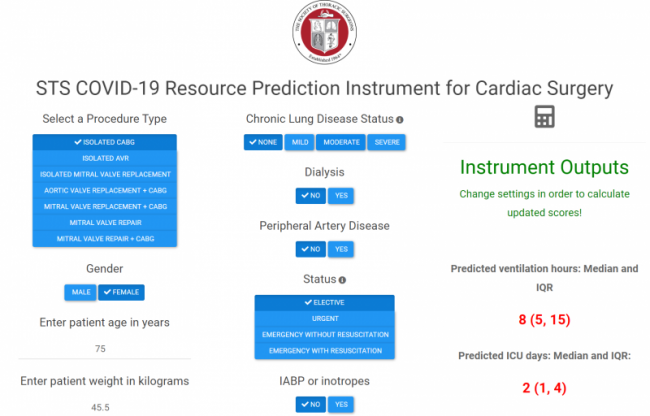 ​