Event dates
Jan 27–29, 2024
The premier annual event in cardiothoracic surgery, unveiling never-before-seen science, techniques, and technology, and creating a forum to build lasting connections with colleagues.
Save the date for the 60th Annual STS Meeting in San Antonio, Texas, next year! 
Abstract Submission
Submit your work for presentation consideration at the 60th STS Annual Meeting. Submissions of abstracts, "How I Do It" surgical videos, and session proposals are being accepted now through Thursday, July 20, 2023. 
Pre-Meeting Lung Transplant Symposium
The 2024 Lung Transplant Symposium: Surgical and Medical Insights for Transplant Assessment and Management, presented as a pre-conference activity on Friday, January 26, will provide insight to best-practice approaches for surgical and medical care of lung transplant patients, from assessment as candidates though post-surgical care as recipients. Add your name to the interest list to be among the first notified when registration opens. 
 
Resident Showdown
Image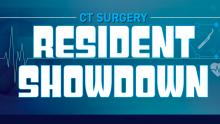 STS 2024 will be the site of the ultimate CT Surgery Resident Showdown, a game-show format competition between teams of CT surgery residents. Two-person teams will face off against one another in a test of knowledge in five categories: cardiac, congenital, thoracic, history of the specialty, and decision making. A North American champion will face off against the winning European team during the final showdown in San Antonio. 
Team registration is open and continues until June 30. Sign up your team now!
Exhibitors