2 min read
In observance of Lung Cancer Awareness Month, STS participated in a congressional press conference focused on the importance of lung cancer screening hosted on the U.S. Capitol grounds on Thursday, November 16. The event, hosted by Congresswoman Kathy Castor (D-FL), aimed to bring attention to the urgent need to get more people screened for lung cancer.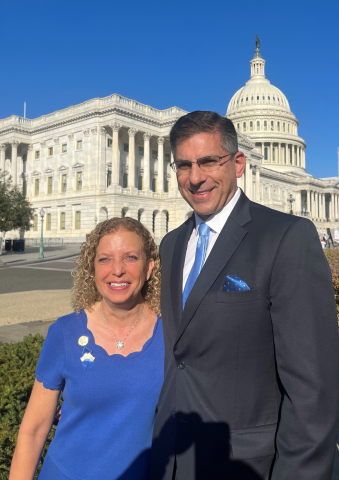 STS joined other key stakeholders in the lung cancer community at this event, including LUNGevity Foundation, American Lung Association, GO2 for Lung Cancer, Moffitt Cancer Center, the Roswell Park Comprehensive Cancer Center, and Rep. Debbie Wasserman Schultz (D-FL).  
STS has a long history of advocating for robust patient access to lung cancer prevention, screenings, and treatment. "Over the past decade, significant progress has been made to expand insurance coverage of lung cancer screening, yet this press conference highlighted that significant challenges remain to increasing screening rates among at-risk individuals," said Keith Mortman, MD, who participated in the press conference and is a member of the STS Workforce on Health Policy, Reform, and Advocacy. "While innovative treatments for lung cancer are rapidly emerging, not everyone has equal access to these cutting-edge treatments. STS is relentlessly advocating with policymakers in Washington to remove barriers and increase access so our members can offer the highest quality lung cancer care possible."
To advance this priority, STS has advocated for H.R. 4286, Increasing Access to Lung Cancer Screening Act, a bipartisan bill introduced by Reps. Brian Higgins (D-NY), Brian Fitzpatrick (R-PA), and Kathy Castor (D-FL), that would require all state Medicaid programs to cover lung cancer screenings for eligible enrollees as recommended by the U.S. Preventative Services Task Force (USPSTF). Urge your lawmakers to support this legislation today.