6 min read
STS News, Fall 2022 — Whether they were called to the specialty by heritage or by destiny, these parent-child duos represent the evolving arena of cardiothoracic surgery in real time.
Surender Reddy Neravetla, MD, and Soumya Reddy Neravetla, MD 
At Springfield Regional Medical Center in Ohio, Surender Reddy Neravetla, MD, has earned accolades for his more than 10,000 valve repairs, beating-heart surgeries, and minimally invasive lung resections, as well as a most distinctive trophy: King of Dad Jokes.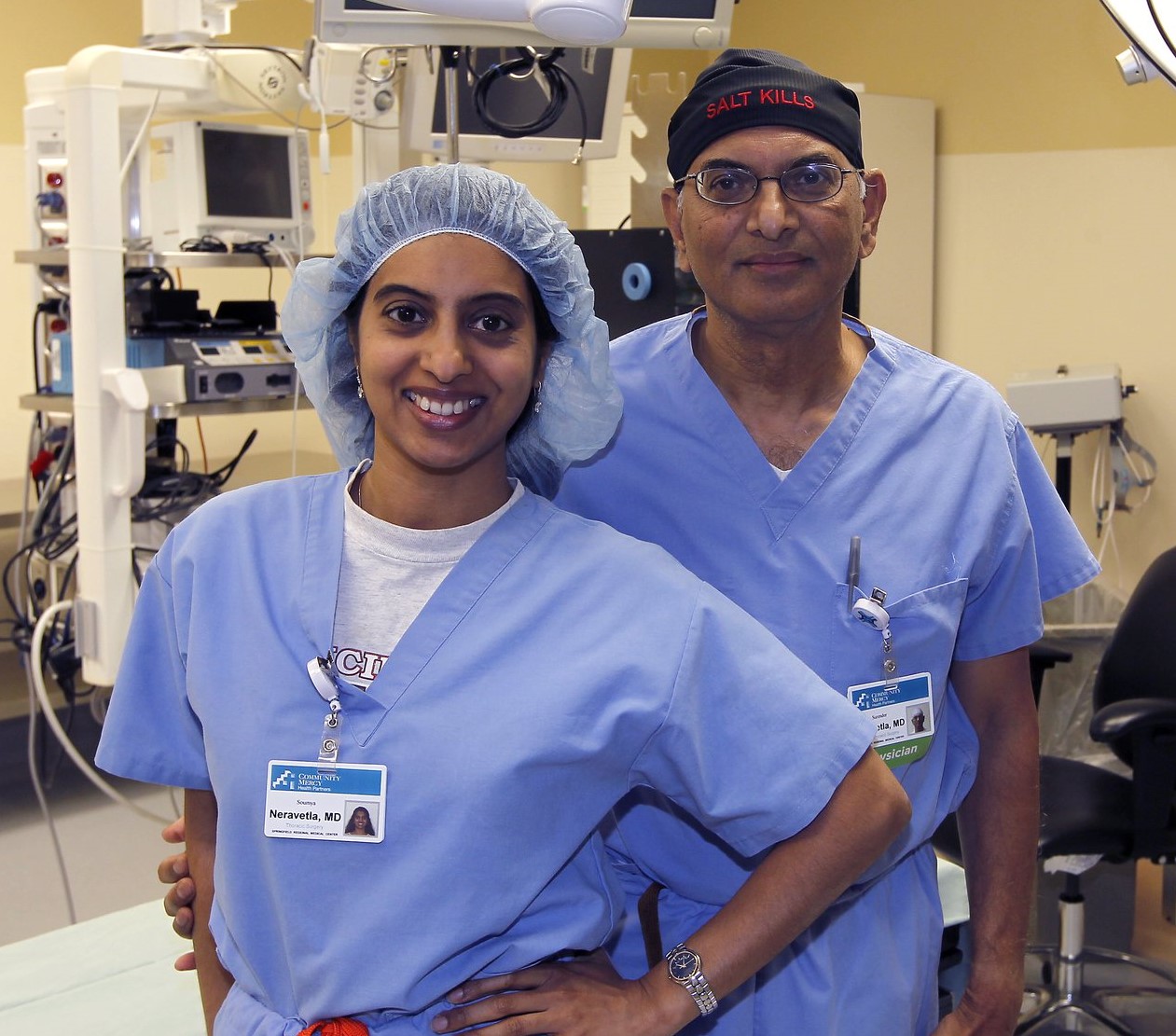 Despite Dr. Neravetla encouraging his daughter, Soumya Reddy Neravetla, MD, to try out different career paths, Soumya found herself gravitating time and again toward cardiothoracic surgery. And when veteran surgeon Lofton N. Misick, MD, left the Springfield center for a position in Texas in 2016, Soumya stepped in to take on some of the workload. The plan was to stay "for a little while."
She's still there. "I've been busy!" she said. "Launched a TAVR program and a lung screening program in Springfield. Met with the governor of Ohio about lung cancer. Served in multiple board positions with the Association of Physicians of Indian Origin (AAPI), Association of Telugu Medical Graduates of USA." She served as president of AAPI's physician's section from 2021–2022, and she is currently the chair of the hospital's Cancer Committee and Department of Surgery.
The Drs. Neravetla may be the first father-daughter cardiothoracic surgeon pair to have operated as a team. Soumya referred to heart transplant pioneers, the late Norman E. Shumway, MD, PhD, and his daughter Sara J. Shumway, MD, who now serves as professor and vice chief of cardiothoracic surgery at the University of Minnesota Medical School in Minneapolis. "It's my understanding that the Shumways never worked together, but I believe she's the first daughter to follow her young father in this path. Dr. (Vinod) Thourani once pointed out to me that we may be the first father-daughter duo to actually work together," Soumya said.
Clearly, a passion for preventative medicine and public health also runs in the family. The senior Dr. Neravetla is a longtime champion of bringing health education to underserved communities. He's the author of the 2012 book Salt Kills and its 2014 follow-up, Salt: Black America's Silent Killer, and he maintains a public blog on prevention issues, explaining current medical literature in plain language.
---
Richard M. Engelman, MD, and Daniel T. Engelman, MD
In 1968, when Richard M. Engelman, MD, was a resident at New York University, coronary artery bypass grafting (CABG) was in its infancy. Patients remained intubated for at least a day, were on mandatory bedrest for a minimum of 48 hours, and didn't begin rehabilitation—which involved only limited ambulation—until 72 hours later.