2 min read
For the first time, The Society of Thoracic Surgeons joined the Korean Society for Thoracic and Cardiovascular Surgery (KSTCVS) in their presentation of the Heart Valve Disease Forum (HVDF), an annual conference that delivers the latest developments on the basis, cause, diagnosis, treatment, and future of valve disease.
Image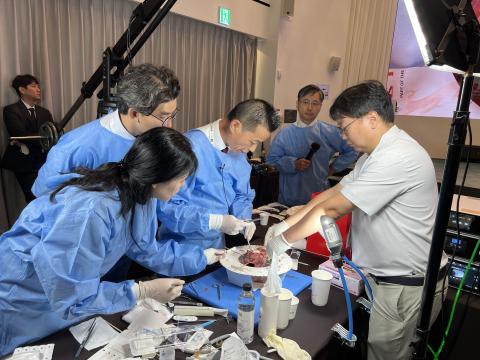 The forum, held September 15-16, 2023, in Dragon City, Yongsan, Seoul, was led by the President of the HVDF, Dr. Kyung Hwan Kim, and organized by co-program directors Dr. Joon Bum Kim of Asan Medical Center of Ulsan College of Medicine and Dr. S. Chris Malaisrie of Northwestern University, who commented "STS was thrilled to partner with the KSTCVS on this international event, highlighting transpacific expertise on valves."
Dr. Kim remarked, "By co-hosting the forum with STS, we brought together the world's top scholars in related fields for discussion and achieved the best conference experience."
More than 300 surgeons, residents, and other medical students attending the conference heard from luminary surgeons and professors on today's hottest topics impacting the specialty, including TAVI, innovative SAVR, and endocarditis, and trained on surgical techniques in wet labs. "The dynamic, case-based discussions and interactive wet labs with skilled faculty inspired the next generation of cardiac surgeons," said Dr. Malaisrie.
Dr. Thomas MacGillivray, president of STS, delivered several talks, including one on "Crisis Management in the Operating Room and Surgeon Leadership."
At this year's conference, particular emphasis was placed on connecting young surgeons responsible for the future of heart valve surgery with proven STS surgeon leaders through a mentor-mentee program. It was an exclusive opportunity for early career attendees to gain invaluable guidance on navigating their career paths and overcoming challenges from leaders.
"The heart valve symposium was a wonderful success and a historical event that stands out among the meeting's 30-year history," said Dr. Kim. "Our Korean colleagues agreed that collaborating with STS was the best thing in terms of excellence of lectures, one-to-one teaching in the wet lab, an exciting mentorship program, and beautiful times spent outside of the conference room."
​