9 min read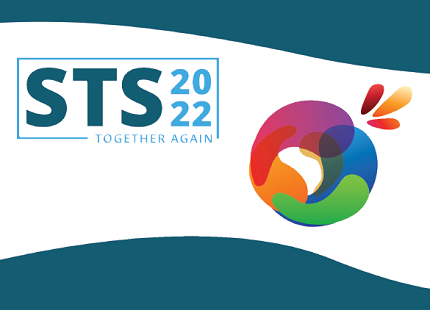 STS News, Fall 2021 — Top-quality research, groundbreaking procedures, expert discussion, networking, and wellness activities are abundant in the program for the Society's 58th Annual Meeting, Saturday through Monday, January 29–31, in Miami Beach, Florida.
The theme of STS 2022 is "Together Again," and it will include both an in-person meeting and a virtual option for attendees to tune in from anywhere in the world. With 47 parallel sessions, 14 "Ask the Experts" sessions, four hands-on courses, four 360° "In the OR with…" sessions, eight Deep Dive presentations, featured lectures, more than 220 electronic posters, and more, STS 2022 is a don't-miss event for cardiothoracic surgical professionals of every discipline and at every career level.
"The program planning team has hit the ball out of the park with STS 2022 offerings," said STS President Sean C. Grondin, MD, MPH, FRCSC. "The adult cardiac, general thoracic, congenital, and critical care presentations are top-shelf. This will be a tremendous meeting."
Adult Cardiac Offerings Highlight Trials and Techniques
Trending in the adult cardiac program are observations from major trials and registries, and a session devoted to them will deliver key points for attendees, said Tom C. Nguyen, MD, a member of the Annual Meeting Program Task Force.
"We decided to break the usual cadence a bit by having four abstracts within each session, mixed in with preludes and discussions," said Dr. Nguyen. "A 'what's the latest' session will include topics of interest to all cardiac surgeons, and during our 'controversies' session we're going to start off with a discussion about what we know and what we don't know about our most common operation, coronary artery bypass grafting."
A "2025 forecast" will explore what's in store for adult cardiac surgery in the next few years. "We'll also have a video session featuring top-scoring productions," Dr. Nguyen continued.
Deserving of attention is a presentation addressing why cardiac surgeons should be involved with acute pulmonary emboli, as well as an aortic session that focuses on both the ascending and descending aorta. "This one will be accompanied by a talk called 'A Brief Walk in Time: A History of Aortic Surgery,'" he added.
Cancer Breakthroughs, Quality, Robots Shine in General Thoracic Surgery
"Our abstract session on novel technology in non-small cell lung cancer looks at new techniques that aren't part of current care," said Jessica S. Donington, MD, MSCR, a member of the Program Task Force. These applications include artificial intelligence applications for predicting malignancy and nodal metastasis during resection, virtual reality planning of segmentectomy, transbronchial microwave ablation of lung nodules in a hybrid operating room, and CT radiomics and serum histoplasmosis testing for improving diagnosis.
In the arena of bronchoscopy, the "EM, Robots, Ablation" session will explore robotic and electromagnetic navigation, ablation, and other advances in therapy.
"We also have a very good group of esophageal cancer papers, looking at everything from new neoadjuvant therapies to robotic esophagectomy," Dr. Donington said.
Additional lung cancer sessions will address clinical care, quality issues, and access to care and disparities within the health system—a prevailing theme in this year's abstracts, said Dr. Donington. The J. Maxwell Chamberlain Memorial Paper in the general thoracic category will use a statewide collaborative to identify racial differences in lung cancer surgery. "The authors found pretty significant differences in terms of staging and workup and the care delivered," she said.
A joint session, "Regional Quality Collaboratives," will explore metrics and perspectives from faculty at the University of Michigan in Ann Arbor, as well as from the Northern New England Cardiovascular Disease Study Group and the Canadian Association of Thoracic Surgeons.
Congenital Sessions Employ Hard Data, Expert Demonstrations
Abstract sessions in the congenital realm will delve into an abundance of neonatal topics, from tackling surgical challenges to exploring the pathway to surgical innovation, said S. Adil Husain, MD, Vice Chair of the Program Task Force. The "It's Not in the Books … So How Do They Do It?" session will demonstrate an array of techniques, including cone repair for Ebstein anomaly and prophylactic commissural resuspension during unroofing procedures for anomalous coronary arteries.
"We also have really nice basic science abstracts, and we're sprinkling them in with two invited talks—one that looks at stem cell use within the single-ventricle population and one that demonstrates how to establish a basic science lab and use it as a transition into creating novel techniques within the OR," Dr. Husain said. "A session on the aortic valve and the left ventricular outflow tract covers anatomic regions of congenital heart surgery that continue to have quite a bit of controversy."
Another session will examine advancements in pediatric heart failure and transplantation, addressing issues such as the impact of persistent renal dysfunction and high-panel reactive antibody, transplantation in pediatric patients with heterotaxy syndrome, and re-intervention for superior vena cava obstruction, culminating in an invited talk on implantation and outcomes for systemic ventricular assist devices.
"There's been a lot of push within the congenital population to look at the concept of program regionalization and how data and outcomes may be employed as tools to define metrics and approaches," said Dr. Husain.
Accordingly, a data-centric session—featuring the congenital Clark paper—includes presentations that explore risk stratification for adults and mortality predictive models utilizing the STS National Database.
 
"Our abstract session on novel technology in non-small cell lung cancer looks at a lot of new techniques that aren't part of current care."
Jessica S. Donington, MD, MSCR
Transplantation, MCS Share Spotlight with Critical Care
To help ensure that attendees have a rich experience with the latest devices—and that they can attend high-priority concurrent sessions without missing others of interest—STS 2022 will include cardiothoracic transplantation assist devices within the "critical care" category. Ahmet Kilic, MD, from the Program Task Force, oversaw programming for the mechanical circulatory support (MCS), critical care, and transplant arenas.
"Two sessions are dedicated to critical care devices, including for MCS, lung transplant, and heart transplant," Dr. Kilic explained. "One focuses on identifying issues while you're on circuit. We're going to talk about topics like left ventricular dilatation pulmonary edema, the use of veno-arterial ECMO for pulmonary embolism, recalcitrant hypoxia, and harlequin syndrome. We expect a lively discussion on the key problems surgeons are having."
The next session will be "Same Toys, New Indications," and it explores novel applications such as axillary access with a balloon pump and flow pumps to get patients safely to transplantation. "In addition, we'll be talking about a total artificial heart, as well as the unmet needs with current left ventricular assist devices that are already out there," said Dr. Kilic.
For lung transplantation, experts will examine the euthermia approach with ex vivo donors. Still more must-attend sessions will address the impact of COVID positivity in recipients and donors, a data-driven analysis on how weekends, holidays, and thoracic conferences impact the acceptance of heart transplant offers, as well as transplant controversies in the ICU and extended-criteria donors for heart/lung transplantation in the modern era.
360° and Deep Dive Sessions Return for More Unforgettable Experiences
Two popular programs launched at the STS 2021 Annual Meeting again will be available in Miami Beach. "In the OR with…" sessions will feature 360° videos, offering attendees panoramic and up-close views of challenging cardiothoracic procedures from beginning to end. Highly acclaimed surgeons will walk participants through each case and provide live feedback that's nearly like standing beside the team in the operating room. The four operations on the agenda this year are uniport lobectomy, complex aortic arch reconstruction, Ross procedure, and minimally invasive complex mitral valve repair.
In addition, during eight "Deep Dive" courses, experts will walk attendees through the considerations, challenges, and real-time decision making involved in an interdisciplinary variety of procedures and scenarios.
Hands-On Courses Provide Access to World-Class Faculty
STS 2022 provides the unique opportunity to learn from and practice with some of the most celebrated minds in cardiothoracic surgery.
Trainees and veteran surgeons alike will benefit from real-world wet lab sessions on valve sparing root replacement, mitral valve repair, laryngeal tracheal resection, and creation of both a bi-leaflet and a tri-leaflet polytetrafluoroethylene valved conduit.
Exhibits, Learning Labs Get Hands-On with New Technology
Throughout the meeting, attendees will have dedicated time to meet with industry representatives. The Exhibit Hall will be open Sunday and Monday, and newly reimagined Learning Labs will allow participants to receive more in-depth hands-on demonstrations of the latest products and technologies in a dedicated space in the hall.
And as always, STS will offer a host of social events, wellness activities, and networking opportunities for attendees to unwind and socialize with colleagues.
Registration Is Now Open
Attendees may choose to register for either an in-person or virtual event. Registration is open now at sts.org/annualmeeting. Extra fees are required for Saturday morning sessions and the President's Reception.
COVID vaccination will be required for anyone attending the in-person meeting. STS 2022 COVID protocols are available at sts.org/AMcovid.