5 min read
---
---
Application Submissions Begin Soon for Miami Beach Leadership Capstone
The STS Leadership Series is a unique learning experience designed to help early to mid-career cardiothoracic surgeons build and hone their leadership skills. The 2021 series of webinars will culminate in a capstone in-person event on Friday, January 28, prior to STS 2022 in Miami Beach, Florida—and attendance at the event is limited.
STS will consider applications from surgeons within their first 8 years of practice who have watched the three webinars, including "Leading During Crisis," "Building Your Practice and Your Brand," and "Promoting Your Brand." There's still time to watch these webinars and be part of the exclusive event. Information about the application process will be announced soon.
Visit sts.org/leadershipseries to take advantage of this career-building opportunity.
---
Critical Care Conference Showcases Cutting Edge of ERAS, ECMO
During the 18th Annual Perioperative and Critical Care Conference, more than 350 registrants and faculty came together for a 2-day virtual experience featuring techniques and technological advancements in cardiothoracic perioperative and critical care medicine.
The conference included live presentations, e-posters, abstract sessions, on-demand videos, a virtual technical exhibition, and social and wellness events for attendees to connect and unwind with colleagues.
Day 1 highlighted enhanced recovery after surgery (ERAS), beginning with "What's New" sessions covering cardiac and thoracic topics, complemented with panel discussions on issues, including "Making the Case for ERAS to Administrators" and "Can ERAS Equalize Outcomes Between Open and VATS?".
The day continued with discussions on opioid avoidance in ERAS, postoperative atrial fibrillation, managing the right ventricle after left ventricular assistive device placement, and complications after thoracic surgery.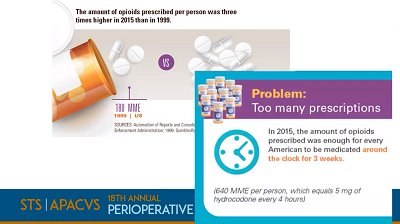 During day 2, attendees explored the latest in extracorporeal membrane oxygenation (ECMO), with panelists and presenters addressing ethical controversies and conundrums in ECMO, goal-directed perfusion, and advanced life support after cardiac surgery. Sessions also addressed experiences with COVID "long-haulers," and attendees had the privilege of hearing testimonials from two COVID survivors, who shared their stories of treatment, recovery, and living life after their illnesses.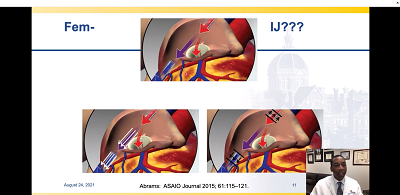 If you missed the conference, the meeting content will be available for purchase this month through the STS Learning Center.
 
---
News Releases Draw Attention to Chewing Gum after Heart Surgery, ERAS Minimizing Opioid Use
The Society recently distributed two news releases that featured research presented during the 18th Annual Perioperative and Critical Care Conference.
Chewing Gum after Heart Surgery May Help Relieve Gut Problems
Researchers: Sirivan S. Seng, MD, Hakan Orbay, MD, PhD, and Charles M. Geller, MD
Main finding: Chewing gum after heart surgery may accelerate the return of gut function, helping patients feel better and potentially be discharged sooner than those
who don't use this intervention.
Featured in: TCTMD, HealthDay, and Cardiology Today
Patient-Centered Protocols Help Eliminate Excess Opioid Use after Lung Surgery
Researchers: Andres Zorrilla Vaca, MD, David C. Rice, MD, and colleagues
Main finding: Lung surgery patients who utilize a comprehensive, evidence-based enhanced recovery after surgery program require fewer opioid prescriptions when discharged.
Featured in: Medical Xpress
For more information, visit sts.org/media.