AQO Featured Record Attendance, Data Manager Excellence
STS News, Winter 2021 — A record-breaking 1,403 registrants came together virtually for the 2021 Advances in Quality & Outcomes (AQO): A Data Managers Meeting last October. 
Designed to showcase the latest advancements in quality research through the STS National Database, AQO provided on-demand content, live presentations, e-posters, and a virtual resource library for data managers.
Each day of the conference was dedicated to a component of the Database. Popular sessions included "What Data Managers Want to Know," which enabled participants to have their most pressing questions answered by expert panelists.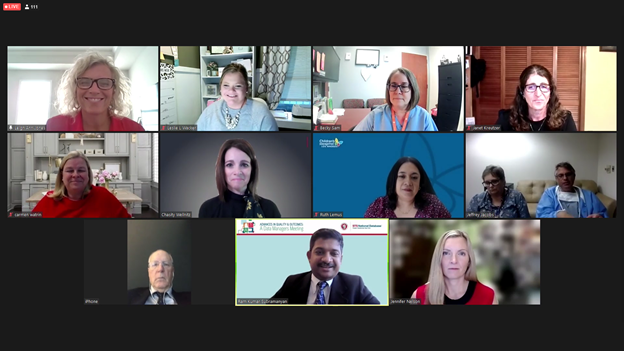 The Dorothy Latham Award was presented to data manager Lisa M. Hartman, MSN, RN, from Premier Health in Covington, Ohio, for her poster, "Transitioning to Paperless Cardiac Abstraction in the Remote Work Environment," and Beth Dinicola, RN, BSN, from Newark Beth Israel Medical Center in New Jersey, was recognized with the Sherri Ann Wissman Memorial Excellence Award for her commitment to patients and the profession.
AQO registrants now can access meeting content in the STS Learning Center, to catch up on sessions they missed and examine the latest research findings and recommendations for quality improvement initiatives. The meeting content is available until October 26, 2022. Visit sts.org/aqo for more details.
The next AQO meeting is scheduled for October 26-28, 2022, in Providence, Rhode Island.
---
Promising Trainees to Experience Cutting Edge of Cardiothoracic Surgery
The STS Annual Meeting is an incomparable way for trainees to learn what the cardiothoracic surgery specialty has to offer. Through the Society's Looking to the Future (LTTF) Scholarship Program, 30 general surgery residents and 30 medical students will have that experience this year at STS 2022.
The scholarship enables an exclusive group of trainees to attend the Annual Meeting, where they'll get a glimpse into what it's like to be a cardiothoracic surgeon, informing their decisions as they forge their career paths.
Designed to identify and encourage general surgery residents and medical students considering, but not yet committed to, a career in cardiothoracic surgery, the LTTF scholarship is highly competitive and represents some of the best and brightest. More than 215 students and residents applied for the 2022 scholarships.
Awardees receive complimentary registration, housing, and travel stipends for the STS Annual Meeting. An event designed for scholarship awardees will present insights on cardiothoracic surgery as a profession, life as a cardiothoracic surgeon, and the application processes for training programs. In addition, each scholar will receive one-on-one mentoring from a cardiothoracic surgeon who can share advice on building a successful and rewarding career.
Since the program's inception in 2006, the Society has awarded 725 scholarships. To view a list of the 2022 recipients, visit sts.org/lttf.
---
---
This strategic collaboration will help facilitate a series of educational programs that range from conducting advanced skills courses to helping early career surgeons design optimal clinical trials. In addition, AstraZeneca will help fund two awards offered by The Thoracic Surgery Foundation—one grant supporting investigators involved in lung cancer research and another supporting those exploring minority health disparities.
AstraZeneca has committed $1.5 million for these programs.
The first partnered offering was a free webinar, "Surgeons and Comprehensive Biomarker Testing for Lung Cancer Patients," available now in the STS Webinar Series. Additional programs will follow in 2022.
---
---
Latin America Surgery Symposia Showcased World-Class Insights
Two virtual collaborative events in the fall demonstrated the latest advances in thoracic and cardiovascular surgery and featured faculty from across the globe.
Thoracic Symposium Demonstrated Making the Most of Resources
Hosted by STS, the European Association for Cardio-Thoracic Surgery (EACTS), and the European Society of Thoracic Surgeons, the Latin America Thoracic Surgery Symposium in November was attended by 452 registrants from 71 countries. The symposium—which boasted an internationally representative lineup of world-class faculty—offered new data and insights on managing patients with COVID, starting a lung cancer screening program, and treating patients with chest wall trauma.
Highlights included international panel discussions on COVID-19 from thoracic surgeons' perspectives and on making the most of limited resources to initiate lung cancer screening programs. A "Clash of the Titans" debate addressed lobectomy versus segmentectomy for early-stage non-small cell lung cancer, and a session on rib fixation surgery explored new data, novel technology, pros and cons of the procedure, and issues surrounding pricing and payment.
Cardiovascular Symposium Showed Experts in Action
In December, the STS/EACTS Latin America Cardiovascular Surgery Symposium highlighted the latest developments and best treatment practices for coronary artery disease, mitral valve repair, atrial fibrillation, and the surgical management of heart failure. The symposium was attended by 459 registrants representing 63 countries, and the program featured nine "Meet the Experts: How I Do It" video sessions, interspersed with panel discussions.
Internationally celebrated surgeons demonstrated mitral valve repair, aortic valve repair and valve-sparing aortic root replacement, transcatheter aortic valve replacement (TAVR), and tricuspid valve repair and replacement.
Both Latin America symposia were presented in English, with simultaneous translation in Spanish and/or Portuguese. The lectures and live discussions were recorded and now are available in the STS Learning Center.